A book on entrepreneurs
What can we learn from everyday successful Australian entrepreneurs?
A realistic view of successful entrepreneurship.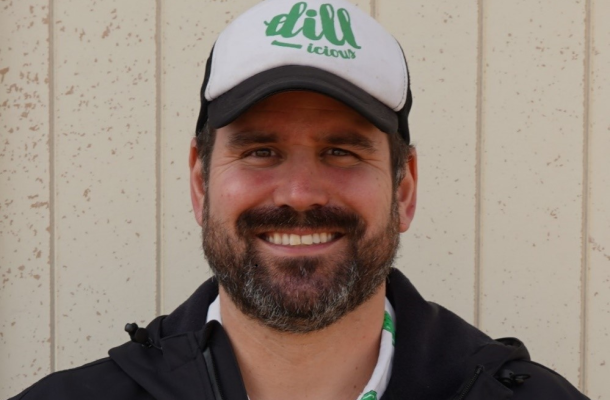 NOW READING
Interview 15: James Barbour
29.9.21 | Interview
Published by
Executive summary
The Universal Business School Sydney (UBSS) commissioned Cyril Jankoff and Daniel Bendel to write a second book for them, a book on entrepreneurs. Its purpose is to give new local and international undergraduate and MBA students a feel of what everyday Australian business success looks like. To give a realistic view of successful entrepreneurship the authors chose 15 successful entrepreneurs and interviewed them. This is the 15th interview. Each interviewee was asked the same questions and at a later stage the authors reviewed all interviews and summarised the commonalities. The focus of the cases is on Sections III to VI.

Key points from this interview
Getting input from others is useful for gaining another perspective.
He would advise not to worry about failing. Some people want to get things perfect, but some things can never be perfect.
You need to know what you can do and what you can't do.
The benefit of being professional and sticking to your principles.
There is a difference between "skin in the game" and "soul in the game". The former is where you have a financial interest in the outcome and the latter is where you have personal rewards in addition to financial rewards.

James Barbour 
From selling cucumbers to pickling them. James has always been a pickle person. Growing up in Virginia, USA his mother claims that from as early as age 2, he's been eagerly eating them. He met the love of his life, Liza (from the Mornington Peninsula), whilst volunteering in Tonga and after over a decade in Melbourne, they started a business making American-style dill pickles. They called their business "Dillicious". There has never been a dill moment since then.
Authors' note – That joke has put us into a real pickle

Category:
Young business/start up business entrepreneur. Using Equity crowd funding to give expansion a helping hand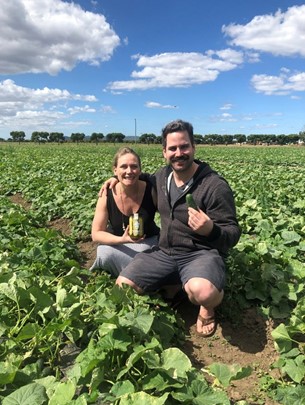 James and Liza in the fields

I. Key dates
The key dates are summarised in the below chart, and are:
Early 2009: James (from Virginia, USA) meets Liza (from the Mornington Peninsula, Victoria, Australia) whilst both volunteering in the Kingdom of Tonga.
Late 2009: James and Liza moved to Melbourne, Australia – where Liza grew up.
2013: Married
2017: James' life is going pretty great: happily married raising two children on Victoria's picturesque Mornington Peninsula. Except there's just one thing missing: pickles. There's a pickle shaped hole in his heart. From imports to imposters, James and Liza sought out alternatives but nothing could fill the void, and in that moment, Dillicious was born. In the absence of a worthy pickle came the inspiration to make their own. Liza maintains her long-standing tenure at Monash University as a lecturer and PhD candidate in public health nutrition and sustainable food systems. Backed by over 18 years of experience in hospitals, community health centres and not-for-profits, Liza is also an Advanced Accredited Practicing Dietitian and proud member of the Dietitians Australia and the Public Health Association of Australia. In order to satisfy James' cravings for pickles, Liza did her research sourcing out the best she could get her hands on and sampling them with her pickle-crazed counterpart. But it wasn't until they experimented with making their own did she realise just how good pickles could be…the crunch, the tang, the flavour- and good for you too! What's not to love?
Late 2018: Dillicious sold their first jar of pickles at the Mt Eliza Farmers' Market. They grossly under-estimated the demand and had to re-stock their stall twice. Over the next couple of months, they amplified weekend production with the help of many friends and family. They booked more and more markets until their weekends were filled to the brim with production and market stalls.
May 2019: James resigned from his full-time corporate sales job to work on Dillicious full time. It was only one week later that Australia's largest distributor of gourmet cheese and specialty foods picked them up for National distribution. The stars were aligned and at that moment the small family business took a giant step to becoming much more. They have continued to work around the clock to grow the business, signed on major retailers such as Costco warehouses Australia-wide and national restaurant groups such as Rando Sando (found in every Strike Bowling, Sky Zone, Holey Moley Golf, Archie Brothers) and Australian Venues Co. (one of Australia's largest and fastest growing hospitality groups). All while remaining true to the vision to keep it local, push Australian produce and maintain quality production to deliver the ultimate crunchiness. They are on a journey to redefine the humble dill pickle for Australians.
Authors note – It's been a jarring experience, (sorry the authors are just a couple of Dills)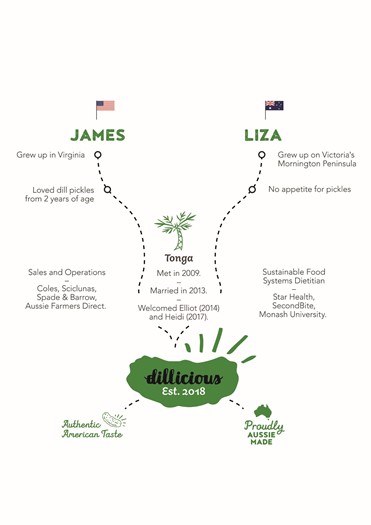 The delicious Dillicious Journey chart


2021: Dillicious completed a fundraise through the relatively new area of Equity Crowd Funding (ECF). ECF is a way to buy shares in private companies and is typically used for investments in early-stage start-ups. It is similar to regular crowd funding but with a key difference – people buy shares in companies that list projects, not their goods or services. About $250,000 was raised with the help of Birchal.
The funds received have enabled them to:
Streamline production processes by purchasing manufacturing equipment.
Expand production capacity by moving into a custom-built facility – The Brinery (September 2021).
Expand their product offering (Brine infused condiments).
Increase demand through targeted marketing.
James says that they consider their equity raise as successful although believe a greater investment in Public Relations (PR) Strategy would have seen a much greater fund raise.
Authors' note – maybe for the next fund raise
The average investment was just over $1,000 although many invested a few hundred dollars and quite a few were $10,000+. James said this is a very interesting area of obtaining finance and great care must be taken to get the marketing and statements about risk and financial projections right. It makes for an interesting comparison to alternative options such as Angel investors, venture capital and to debt finance.
Note - Further information on Equity Crowd Funding see the Sources of Funds section in the final chapter of the book that contain this, and the other 14 interviews.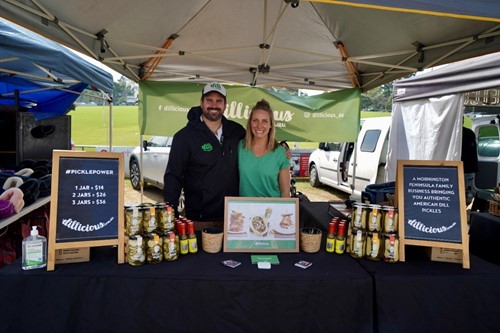 James and Liza at the Red Hill Market (Craft Markets Australia)

II. Getting to know the person
1. What is success?
James sees business success in simple terms – he likes to see happy smiling customers and seeing the product in people's hands.
2. What is your favourite TV show, movie or book and why?
TV: The Project and AFL.
Book: His favourite book is the "The Great Gatsby". I love the idea of the person with everything still not being fulfilled and all he wanted was the love of his life.
Movie: "Legends of the Fall" (1994 movie about 3 brothers and their father living in the wilderness of Montana in the early 1900s).
3. What are your hobbies and/or interests?
These days, outside of business, his interests revolve around his family, his wife and children. He has built up a passion for AFL and follows the Sydney Swans. He advises that it did take him a little time to work out the rules.
Authors' note – good luck with that!

III. Tips
4. How did you get through your worst times?
James believes getting helpful input from others is useful for getting another perspective. James shares both the good things as well as problems with his family and friends and he finds that this gives him great support, without overburdening them. The key is to get the right balance in life.
5. What keeps you awake at night?
Not a lot keeps him awake at night as he is a sound sleeper. Sometimes if something is on his mind it might motivate him to get up early to address the issue.
6. What are your typical daily routines?
James is an early riser, waking between 4-430am and usually reads the news with a coffee for 15 minutes. That is the only time he reads the news to avoid getting distracted. He will then check his emails in case any calls are needed early. James is then off to the warehouse for 9 to 10 hours but Liza and James make sure the family has dinner together every night at 5.30 to 6pm. Then he has time with his wife, Liza to watch the news or a TV show. He and Liza have a dedicated 'business meeting' a couple of evenings a week, with an agenda and all. As a husband-wife team they believe this is important to contain their Dillicious chat so that it doesn't dominate their family time. While James will check his emails approximately hourly, he doesn't let email control his schedule.
7. What advice would you give yourself starting out?
He would advise himself not to worry about failing. Some people want to get things perfect, but some things can never be perfect. James says sometimes you can overthink issues and the key is to decide and then implement.

IV. Business case examples
8. Provide a case you managed well and why?
A national retail chain contacted Dillicious as they were interested in their product. This was their first really large customer that came to them directly rather via their distributor. The customer loved their product, but price and distribution were questioned. James was politely firm on their pricing and preference for using his existing distribution partner. The customer agreed to James's terms and because of the introduction to James's distributor, went on to source additional products from their gourmet cheese range.

9. Provide a case that did not go well and why?
When James first started the business, his distributor lined up a particular customer for James to supply. Dillicious started production based on verbal projected orders and had three weeks' stock ready to supply. The customer did not complete the order due to pricing issues. It took James many months to sell the stock to alternative customers. It was a very stressful period.
10. What conclusions can be drawn by comparing these cases?
The main lesson from the above cases is the old saying "you need to know what you can do and what you can't do". The benefit of being professional and sticking to your principles was clearly of benefit in Question 8. In question 9 there are some cases where you may produce without an order, depending on the Industry you are in and even more importantly, after you have developed a trusting relationship with the other party. In this case that had not yet been developed. If you share your information and explain and communicate it clearly, as in question 8, you may be surprised at how people will be willing to assist. James sees that many people get into trouble by not being assertive on what is right for their business. This puts themselves under pressure and leaves them exposed when external volatility such as the Covid19 pandemic occurs.
11. What cultural issues did you experience? How were they overcome? How is Australia different? Were these cases affect by cultural issues?
James said his US accent does raise some questions and thinks it is a net positive. Apart from that, he fits in to a fairly expected "look" of Australian business people so he has had no real surprises.
He does find it interesting to compare business culture in Australia and USA and finds in many areas the US is ahead in strategy.
Authors' note – see discussion on Equity Fund raising in the chapter on Sources of Finance, where Australia has been 5 to 10 years behind USA. For further information on Equity Crowd Funding see the Sources of Funds section in the final chapter of the book that contain this, and the other 14 interviews.

V. Volatility (for example COVID-19)
12. How has volatility affected your business?
James says the business sells via different distribution channels, but ultimately most of his end customers are restaurants, food courts and other food stores. In March 2020 many businesses closed due to the pandemic and Dillicious dropped 80% in turnover. Also markets were closed, meaning that stream of direct sales was completely paused. Whilst markets were never a large proportion of profit, they served (and continue to serve) an important role in getting the Dillicious name out there. During the pandemic, retail sales increased whilst food service declined. There was a big roller-coaster ride during and between lockdowns.
13. What lasting impact do you think it will have on your business?
James says the need to be ready for volatility has obviously become more crucial. James thinks that the USA does business strategy generally really well and possibly better than Australians who tend to think in more straightforward ways. Global supply chains are clearly a major risk area. Wherever possible, James has long preferred to deal with local suppliers and this is now working in their favour. Consumers are becoming more aware than ever of the quality and source of product so Dillicious' commitment to source their ingredients locally has been a real point of difference. It is James' opinion that retailers (including Coles and Woollies) will be driven by consumer demand so as consumers become more aware of these benefits, retailers will respond.
14. What have you learned from it that you will now implement in your business?
James said that Dillicious will remain true to their values while rolling with the punches. James said he and Liza genuinely enjoy thinking outside of the box so when faced with a challenge, they get their heads together and come up with a few plans. They learnt early on, and particularly through their involvement in Monash University's Generator program, that it's always a good idea to reach out to people with a diverse range of perspectives and skill sets. So they run their ideas past various people who they consider much smarter than themselves!

VI. Family business
15. Are you in a family business and from your experience what do you think are the advantaged and disadvantages of family working in the business?
Yes, James thinks that his is a family business, even with 240 shareholders (through the Equity fundraising). He loves that the whole family is involved, and the kids enjoy and respect the nature of the pickle business. He provided the following comparative information:
Advantages of family business include:
The ability to make decisions based on "gut" feel rather than having to justify every decision with onerous spreadsheets and risk analyses.
Having the kids involved in many aspects of the business – they come to markets and the Brinery and see first-hand just how hard James and Liza work.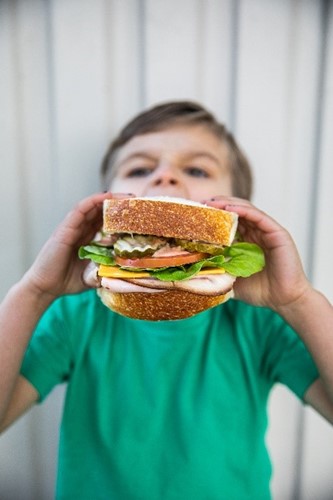 Chief taste tester: Elliot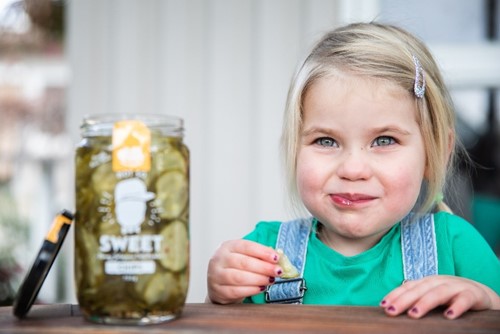 Chief tester: Heidi

Disadvantages of family business include:
James sees that family business members are fully responsible for every decision.
There is never an "off" button.
There's a blurry line between business and personal matters – setting up processes to keep this line clearer is critical.
James sees a difference between "skin in the game", where the reward is a financial interest, and "soul in the game", where the rewards are not only financial but involves other personal rewards as well.

At a market: the CEO and key tasters


Authors: