A book on entrepreneurs
What can we learn from everyday successful Australian entrepreneurs?
A realistic view of successful entrepreneurship.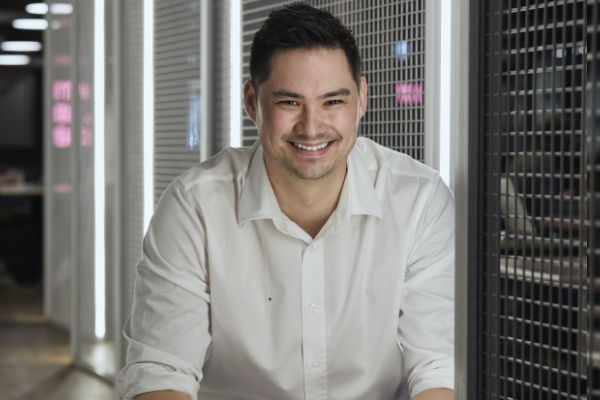 NOW READING
Interview 12: Jon Tse
1.9.21 | Interview
Published by
Executive summary
The Universal Business School Sydney (UBSS) commissioned Cyril Jankoff and Daniel Bendel to write a second book for them, a book on entrepreneurs. Its purpose is to give new local and international undergraduate and MBA students a feel of what everyday Australian business success looks like. To give a realistic view of successful entrepreneurship the authors chose 15 successful entrepreneurs and interviewed them. This is the twelfth interview. Each interviewee was asked the same questions and the authors reviewed all interviews and summarised the commonalities. The focus of the cases is on Sections III to VI.

Key points from this interview
"If you are going to go through hell, keep going" (Winston Churchill).
"When things are going good, you need to watch out because there are probably storm clouds on the way" (Jon Tse).
When asking others for advice skip friends and family. Choose to ask those that have walked down the path that you wish to take, as they will have the mindset you need.
Launching a business is like pushing a rock up the hill. It is never easy work, but you can make it easier by making the hill less inclined.
In business think where the "ball" should be rather than where it is now.
Be prepared to make mistakes, but do your best to make the best decision given the information you have.
Without mistakes there is no progress so you cannot be frozen in fear about making a mistake because there will be no progress at all!
Sh*t happens and if it does then one needs to be prepared to go with your gut feel and move quickly and take risks.
Jon Tse
Jon studied accounting and law at university in Sydney. He started working with a bank, but it did not take long for the entrepreneur in to him to escape. He started up a student resume business, then one in relation to recycling of expensive student textbooks and now with quality stationery and notebooks comprising waterproof paper made from recycled building rubble called stone powder. The business is called Karst®. He is working with his co-founder, Kevin Garcia, who he met in childhood at university.
Category: Innovative entrepreneurship. Innovative entrepreneurs are people who are constantly coming up with new ideas and inventions. They take these ideas and turn them into business ventures. They often aim to change the way people live for the better. Innovators tend to be very motivated and passionate people. They look for ways to make their products and services stand out from other things on the market. People like Steve Jobs and Bill Gates are examples of innovative entrepreneurs.

I. Key dates
1987: Born in Sydney, Australia.
2006: Entered Macquarie University as an undergraduate.
2008: Became President of the Asia-Pacific Entrepreneurship Society and attended student summits at Stanford University & Peking University.
2009: Obtained Mitsui Education Scholarship and interned at KPMG in Corporate Tax.
2011: Completed a Bachelor of Professional Accounting with Bachelor of Laws and started as a graduate at NAB in Sydney.
2012: Whilst at NAB, launched a side hustle business helping university students with their cover letters and resumes until this business overtook my banking salary and decided to go full-time into entrepreneurship.
2013: Co-founded textbook rental business (Zookal) with two friends from university.
2015: Zookal team grew to 25 staff, acquiring a competitor business.
2016: Moved to Singapore to expand Zookal into South East Asia growing out digital tools and resources.
2017: Whilst living in Singapore, was visited by a school friend who showed me this new, sustainable and alternative material (stone paper).
2018: Visited Taiwan to see the creator of stone paper in a regional city called Tainan and became an advisor to the newly launched brand, Karst.
2019: Returned to Sydney and joined Karst full-time as a co-founder after falling in love with the mission and brand.
2020: Raised funding for Karst from the founders of Canva and Envato (Australian tech unicorns) and launched Karst warehouses in Sydney, Netherlands and Amsterdam.
2021: Reached first 50,000 Karst customers in over 90 countries and hired ex-Moleskine sales executive in Karst London office.
2021: Secured distribution deals in Australia & the UK and to be launched in Staples US & Canada.
2021: the company's website provides details of the product (see photograph, below), which can be summarised as:
Better when wetter: Karst Stone Paper™ is completely waterproof. So your morning coffee can't ruin your eureka moment, and the rain can't steal your thunder.
Not just recycled. Up-cycled: Our paper is made from calcium carbonate, a repurposed construction waste. Our process has been redesigned to eliminate elements of waste that would have been unavoidable in the traditional paper-making process.
Smoother doesn't begin to describe it: Our paper is friction-free, pens glide across our pages because there is no grain direction.
Smaller footprint made smaller again: Our paper has a 67% smaller carbon footprint.
We keep our colour all natural: Our paper is naturally bright white, never dyed or bleached with harsh chemicals like chlorine or acid.

II. Getting to know the person
1. What is success?
Jon finds it hard to define what success is. He thinks that the goal posts are moving. When he was younger it was making a sale. Now it is making many big sales. He feels that success is not an end point, but a mind set (called a "vanity metric"), which is something in your head which you change to reality so others can see. Interestingly he speaks about success in relation to getting advice. He stated that when he thought about going into business family and friends were invariably negative coming up with many reasons why he should not to go ahead. He said that generally these people had a conservative mindset, which is different from an entrepreneur, who needs a risk mind set to succeed. He felt it was better to consult with people who have already walked down the path that he wishes to take.
Authors' note – it is very sensible to ask a number of people who have walked down the path that you wish to take. Ask where they went well and where they could have done better. Get as much information from as many people as you can before starting.
2. What is your favourite TV show, movie or book and why?
Books: Hard copy: Shantaram (a 2003 autobiographical novel by Gregory Roberts about live on the run in India)
Audio books: Green Lights – Matthew McConaughey's audio book, Shoe Dog – about Phil Knight, the co-founder of Nike, Ride of a Lifetime - Robert Iger, the former CEO of Disney.
TV: Does not watch much, but when he does, he likes to watch Scandinavian detective shows, such as The Bridge.
Favourite movie: Hurricane, a sport and crime movie set in the 1960s - 1980s.
Podcast: Jon was inspired by Guy Raz's podcast on starting a business "How I built this resilience series"
3. What are your hobbies and/or interests?
Jon is an active person, he played soccer until he was 25. He's often outdoors jogging or going to the gym. He loves to see progression whether it is in business, or in his personal life.

III. Tips
4. How did you get through your worst times?
He feels that he is blessed because he is resilient, optimistic and works very hard. He feels he's been to hell and back in business especially in his mid-20s. He refers to Winston Churchill statement's "If you are going to go through hell, keep going". Jon says that when things are going good, he's got to watch out because there are probably storm clouds on the way.
5. What keeps you awake at night?
Nothing much keeps Jon awake at night. He's trained himself to switch off. He's aware that he's running a marathon and not a sprint. If something does worry him during the night, he writes it down and returns to it in the morning as he tries not to fret about things at night, because he knows not much can be done about them.
6. What are your typical daily routines?
He's normally up at 7 am and at work 8, and works until 6 pm. He knows that he is an entrepreneur, and tries not to work 24/7 as that is not good for him nor the business. However, if he has to do so, then he will do it. He feels the day does not have to be rigidly set but he feels it's a successful day if he's had a solid day at work and does some physical activity. He realises that flexibility is important, but an unfortunate part of his work is after-hours international calls. This includes the need to communicate with investors, suppliers and customers. He has offices in the USA and UK. He is now working on delegating certain functions to team members.
7. What advice would you give yourself starting out?
Almost without hesitation he said that be prepared to make every mistake in the book, but you may not realise that you've made a mistake. He said that in starting a business you need to realise that technology rules the world but, he prefers physical products. He said that launching a business is like pushing a rock up the hill. He said it's never easy work, but you can make it easier by making the hill less inclined. He speaks about 2012 when he started his first business, dealing with expensive hard copy student textbooks. He said unfortunately he did not foresee the swiftness of technology change, which reduced the need for expensive hard copy textbooks. He refers to the ice hockey coach's advice that "the player needs to think where the puck should be rather than where it is now". He advocates knowing how to leverage technology and be a disruptor, that is how to get your foot in the market door and work hard ensuring that you make the hill a little less steep.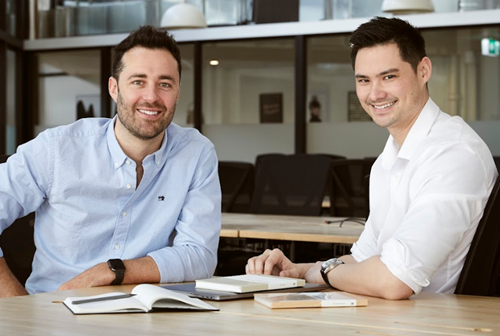 Kevin Garcia and Jon Tse, Karst® co-founders
Our design process starts with a simple question. Why? Why does paper need to be made out of trees? Why can't journals be waterproof? Why are we still using paper-making practices that were cutting edge in the 16th century?
Why can't we do better?


IV. Business case examples
8. Provide a case you managed well and why?
As we all know unfortunate events occur. Jon states that one needs to be vigilant and take risks when necessary to exploit opportunities. He gave the following hand sanitiser case as an example of where things went well. He said that when the pandemic started there was a huge increase in demand for hand sanitiser, with frequent shortages. Through a contact he was able to buy bulk sanitiser, and then had it converted into 20,000 bottles with 18,000 sold and 2,000 given to charity. Read more on the business insider.
9. Provide a case that did not go well and why?
Jon states that when they were growing fast in the early days of Zookal, he looked to hire quickly to help foster this growth and take advantage of the unique opportunity the business presented. However, he learned the hard way the saying "hire slow and fire quickly". He stresses that Rome was not built in a day and to build the right foundations it is imperative to get the right people on the train and not just 'anyone' will do, as it will eventually come back to bite you. The business has different personnel requirements at different stages. Some people are suited for early days of a fast-growing business, some people and their skills are better suited for later-stage companies, but it is really up to the founders and management teams to find the right people at the right time of the business.
10. What conclusions can be drawn by comparing these cases?
He feels that hindsight is a wonderful thing, so expect problems and eat them for breakfast! Be prepared to make mistakes, but do your best to make the best decision given the information you have. Hopefully, the mistakes you make can be lessons learned and don't prove to be too costly for the business in the long run. Having said that, without mistakes there is no progress so you cannot be frozen in fear about making a mistake because there will be no progress at all!
Authors' note – An important point for all aspiring entrepreneurs!
11. What cultural issues did you experience? How were they overcome? How is Australia different? Were these cases affected by cultural issues?
Jon was born and raised in Sydney from an Asian family. Jon said they made a mistake when pitching for funds by using the methods that they had used in Australia, that is they were too humble and down to earth. He said the Americans love to add bravado and hyperbole as to why the investors should put money into the business. They were there for two and a half weeks and had between 30 and 40 meetings, and notwithstanding their lack of histrionics they were successful in that one investor invested 1.5 million US Dollars. Jon pointed out when he went back to his family and told them they asked him whether he was a snake oil salesman. Jon was worried that his father would not approve, and he kept on dressing for work pretending to go to his bank job every day but he in fact was going to his co-founded business. This continued until he took his father to the new business.

V. Volatility (for example COVID-19)
12. How has volatility affected your business?
In speaking about volatility Jon spoke about the COVID pandemic. The pandemic occurred about the time they raised money from the Canva & Envato founders and Karst just launched a new website to go into retail. He stated that their product, stone paper books, is a tactile product and it is best sold retail, that is through department stores galleries, museums, train stations etc. He found that COVID put a hold on this. Another unfortunate situation was that they were working through a distribution agreement at that time relating to access to about 2000 stores around Australia and New Zealand. This is on hold until the shops reopen. Jon said this is a big wake up call. He said that sh*t happens and if it does then one needs to be prepared to go with your gut feel and move quickly and take risks. He gave the example of the demand for hand sanitiser when the pandemic started, and this was discussed in question 8, above.
13. What lasting impact do you think it will have on your business?
Due to the necessity of inventory being in physical stores, or sold through trade shows, where the physical item can be inspected the volatility of the COVID pandemic will have a lasting effect on business. Prior to the pandemic there was a 100% year on year increase. The pandemic is not the only volatility. Another potential issue is the tension between USA , China and Taiwan. Jon's organisation has agreements with Taiwan who helped to pioneer the technology and helped to develop the market. At this stage there does not appear to much of a Chinese impact on their business. Tariffs have increased from 10% to 25% on their product from Taiwan to USA. Jon states that as their products are premium products, they seek the best quality so therefore price is not such an issue but quality is. They have spread their logistics risks by having warehouses in Australia, USA an Amsterdam.
14. What have you learned from it that you will now implement in your business?
Jon says that the COVID pandemic has taught us that there are no rules in business and that anything can happen. He said that luckily, they have three ways to sell. The first is retail sales direct to the customer, the second is wholesale to book shops stationary stores etc, and the third is business to business which is customised logos and corporate gifting. This was not planned, but it turned out beneficial for the company. The combined effect of these three ways to sell means that the company has made enough sales to keep staff busy, so therefore no staff have been laid off due to the COVID19 pandemic. If one distribution channel slows there is another one that can compensate. This helps to recue volatility in the business. He said that in business you need to be quick because sometimes growth areas appear and you need to take advantage of them when you can.
Author's note - You recall that Warrier, our first interviewee, who owns two Sydney Harbour showboats had no income for a number of months. Jon's business was fortunate because, unlike with Warrier's business, it had three different ways of marketing their goods and thus was able to keep the business going, make profits and not have to put staff off.
Jon says that despite Covid and market volatility, there are still lots of opportunities, but you just need to be nimble enough to take advantage.
Author's further note – We once had a client that loved chaos because the client felt they had the ability to find the gaps and opportunities better than others.

VI. Family business
15. Are you in a family business and from your experience what do you think are the advantages and disadvantages of family working in the business?Jon advised that he's not in a family business. He's not keen on family working in a business because there are two contradictory relationships, the family and the business. He prefers there not to be a family relationship. He elaborates stating the disadvantage of a family business is that if something goes wrong with the business it affects the family. This is a risk he's not keen on taking.
He notes that he has observed well-functioning family businesses, particularly large ones. Jon says big businesses and small start-ups have a different dynamic which may affect how easy it is for family members to fit in.

Authors: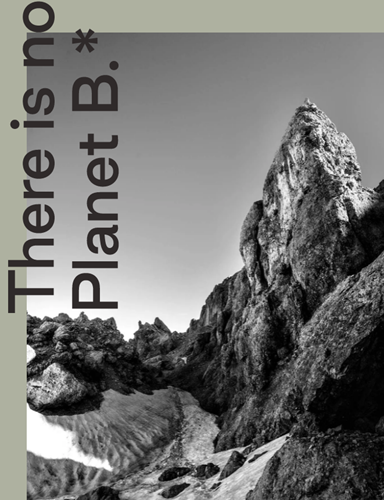 Comment from the website
Whether Elon likes it or not, we're all going to have to live on this planet for a while yet. To us, that means living with it, too. Putting back some of what we've all taken. So, in addition to the environmental benefits of stone paper, Karst is B Corp Certified, has partnered with the One Tree Planted Foundation and is 100% Carbon Neutral.