A book on entrepreneurs
What can we learn from everyday successful Australian entrepreneurs?
A realistic view of successful entrepreneurship.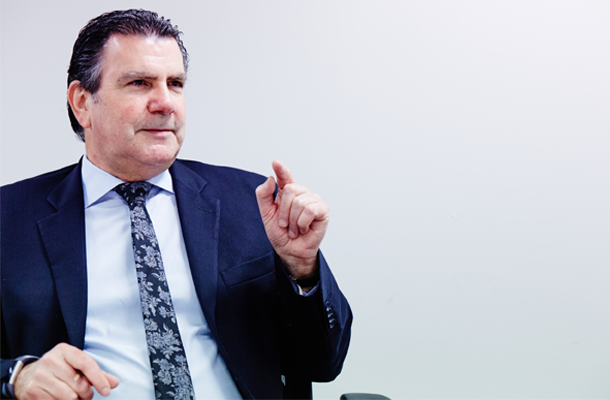 NOW READING
Interview 5: Art Phillips
18.6.21 | UBSS Interviews
Published by
Foreword
The Universal Business School Sydney (UBSS) commissioned Cyril Jankoff and Daniel Bendel to write a second book for them, a book on entrepreneurs. Its purpose is to give new local and international undergraduate and MBA students a feel of what everyday Australian business success looks like. To give a realistic view of successful entrepreneurship the authors chose 15 successful entrepreneurs and have interviewed them. This is the fifth interview. Each interviewee has been asked the same questions and at a later stage the authors will review all interviews and summarise the commonalities. The focus of the cases is on Sections III to VI.

Art Phillips (He is also known by his Italian grandfather's surname DiFilippo, hence Arturo DiFilippo)
A musical performer, musician, composer, musical director, orchestrator and entrepreneur who since the age of thirteen has lived by the three letters "FDP", that is - he seeks to always keep "Focus, Determination and Perseverance" by his side, at his realisation, his motivation and as his reality check.

Category: Student to music band member (employee musician) to self-employed musician, music composer for the screen and song, and an entrepreneur.

I. Key dates
After an early career in music performing, Art commenced a business of composing and arranging for other artists, film and TV scoring. For over 30 years he has lectured in music composition and performance subjects, as well as business and entrepreneurship subjects at the postgraduate level across various universities and institutes throughout the world. Let us now look at how his career unfolded.
In the 1960s Art grew up in a musical family, playing guitar and mandolin with his father and grandfather. He was playing guitar at 5, and at the age of 9 he was clear that he wanted to be a guitarist. At that age he wrote a letter to Tony Mottola (1918 – 2004) the well-known American jazz guitarist who released dozens of solo albums, and worked as guitarist for Frank Sinatra, Perry Como, The Tonight Show starring Johnny Carson, and many more. Tony mentored Art by returning every letter Art had written to him, took his telephone calls, and finally in 1982 they met in New York City while Art was performing as guitarist for Barry Manilow, at the Uris Theatre on Broadway. Tony was the second main inspiration for Art and his career, first of which was Art's father, Arthur M Phillips, also a great musician and guitarist.
In the early 1970s, at the end of high school, he was preparing to study at the Julliard music School of Music in New York City when he was offered an audition for the Lettermen, the 3-piece vocal music group who were famous in the late 60s and 70s. He was chosen and then travelled with the group around the world, including Japan, Philippines, Hong Kong returning to play in his hometown in Erie, Pennsylvania, where he played in front of his family and friends and Lettermen fans. Instead of studying at university he privately studied composition and orchestration.
In the late 70s and 80s he worked as a guitarist, composer, and orchestrator working and recording for popular artists such as Barry Manilow, Minnie Riperton, Demis Roussos, The Carpenters, Smokey Robinson, Dory Previn, Burl Ives and other well-known artists of that time. He also worked on many television programs and feature films (soundtracks) as recording session guitarist and appeared on-camera as the guitarist on the famous television show 'The Love Boat', on some 50 or so episodes during the late 70s.
In 1980, Art's composition 'Here We Go', from recording artist Minnie Riperton reached the top 10 R&B Billboard chart position. The recording was included on her posthumous album Love Lives Forever, Capitol Records.
Art also co-wrote the original music for the daytime soap opera television series 'Santa Barbara, NBC Television, where he won 2 Emmys for outstanding musical direction and composition in a drama series, 1986 and 1987.
In 1987 he moved to Australia, as he had many opportunities to broaden his career, such as acting as music composer for the television series Neighbours from 1989 to 1991. Much of that music is still re-used today on the series.
From 1992 to 2000 he served as vice president of the Australian Guild of Screen Composers (AGSC) and was president from 2001 to 2008.
In 1995 he was awarded the AGSC Award for Best Soundtrack Album for his score to the ABC television series 'The Flying Vet', later re-released on all digitals stores under the album title 'Native Spirit'.
In 2005 he was nominated for an Australian Recording Industry Association Award for Best Original Soundtrack Album for Outback House and was nominated in the APRA (Australian Performing Right Association) / AGSC Screen Music Awards for Best Music in a Television Series or Serial for Outback House the series.
In 2006 his composition Floating, sung by American recording artist Megan Rochell, achieved Billboard's Top 40 R & B chart position.
In 2007/2008 he received nominations for Best Original Music in a Children's Television Series for Pirate Islands: The Lost Treasure Of Fiji in 2007 and 2008 at the APRA/AGSC Screen Music Awards.
In 2010 Art started 101 Music Pty Ltd®, now a successful music production library and label with over 60 record album releases and is represented with distribution across 85 countries under some 25 cross-cultural agreements. When he explains the mechanics of how his music library works (with sub-publishers) he uses "selling shoes" as a metaphor.
In 2018 he joined the Universal Business School of Sydney (UBSS), where he is a Fellow and sits on the Academic Senate and Course Advisory Committee. In addition to this he is the Chair of Queen Anne School of Management's (QASM) Course Advisory Committee, Deputy Chair of The Australian Institute of Music's (AIM) Academic Board. He is a recipient of four 'Executive Dean Awards' for 'Outstanding Teaching in the Postgraduate Program' at UBSS. He also lectures in the postgraduate subject Entrepreneurship Research Report' at UBSS, and in addition has developed, written and delivers, as lecturer, three postgraduate subjects in the 'Music and Media' masters course at Excelsia College, Sydney.
Since early 2021, Art has been Director of The Centre For Entrepreneurship at the Universal Business School Sydney (UBSS).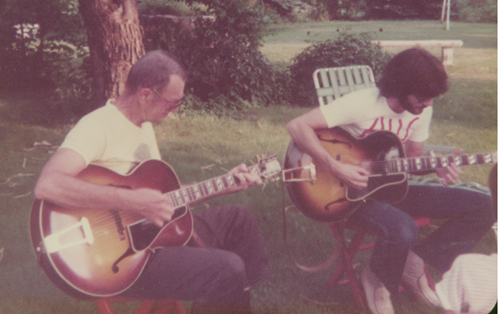 In the 1960s Art grew up in a musical family, playing guitar and mandolin with his father and grandfather. He was playing guitar from the age of 5. Here he is in 1980 (far right) with his father playing in Grandpa Antonio DiFilippo's backyard in Erie, Pennsylvania. Art still uses his father's two guitars, both Gibson L-12 f-hole acoustics.

II. Getting to know the person
1. What is success?
Art sees success as being able to follow one's passion which he feels fortunate to have been able to do since the age of 9. He believes his success has come through his continued focus on FDP, his motto, that is "Focus, Determination and Perseverance".

2. What is your favourite TV show, movie or book and why?
TV: 'Seinfeld', and also 'I love Lucy', because of the intricate manner in which they deliver their humour and tell their story.
Movie: All Alfred Hitchcock movies especially North by North West. He states that Hitchcock, the movie director, used Bernard Herrmann to write outstanding music scores for his films. Herrmann changed the face of modern musical, textural and emotional drama to feature film.
Book: The Violinist of Venice. This is about Antonio Vivaldi from Venice and his passion for life, music and women, and of course the violin.

3. What are your hobbies and/or Interests?
Art's work is his passion but if he were to choose something outside of his music business, he would choose everything Italian (food, music, language, etc). He energetically took up learning the Italian language in about 2010 and speaks Italian to his relatives whenever he can and travels to Italy regularly. Much of his music has Italian themes.

III. Tips
4. How did you get through your worst times?
Art admits he takes things personally, "to heart", as he is a passionate person. He realises that most problems are temporary and likes to just focus on what he loves to do and think, and he seeks to persevere through the difficult times. He says that writing and producing music is like meditation. For the past 20 years, his offices and recording studio facility, where he works five days a week and sometimes more, is a commercial property that he purchased. It is located about a 10 minute drive away from his home. It is there that he constructed a soundproof acoustic recording room and a state-of-the-art mix and mastering room. His workplace administration offices are on the second floor of his commercial property overlooking the city.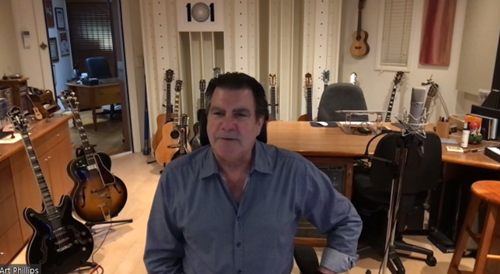 Art in his commercial property, inside the recording studio facilities mix and mastering room, which is located just 10 minutes from his home in Sydney, Australia.

5. What keeps you awake at night?
Art feels that he does tend to worry a little and can get frustrated when people do not follow up as he expects, as he is an action man. Sometimes these things can keep him up at night a little, but normally he sleeps very well, regardless of what is happening around him, even if there are issues to resolve – it's like counting sheep he says – the more problems, concerns and worry the more sheep and the faster they go.....the quicker he sleeps. His wife says he snores within 3 minutes of hitting the bed. He says that he will leave his observation of her pattern off the record.

6. What are your typical daily routines?
Art has a regular routine. He rises at 6:15am, has a light breakfast and then is in the studio by 7:30am. He is not a regular exerciser, but since the beginning of 2020 he has taken up Pilates and yoga and attends class a few times weekly. He spends time either in the studio or in the office depending on what is happening at the time. He has dinner with his wife around 6:30 in the evening and seeks to be in bed by around 9:30pm.

7. What advice would you give yourself starting out?
Art says that he would not change anything from his early years and said that he would advise young people to "enjoy the moment or said another way, to "stop to smell the roses" more than he ever did. It is also most important for Art to keep passion with everything he does – as passion to him is the forefront of every moment in life. My grandfather used to say to me: "Arturo, whatever you are going to do in life you have to do it 101%, give it your everything and give it your complete passion." Art is a workaholic, and does drink a glass of vino and a bit most nights ... after all he says: "Sono Italiano", that is "I am Italian".

8. What cross cultural issues did you experience? How were they overcome? How is Australia different?
When asked about cross-cultural issues he faces, he said that he experiences them every day with his music library business. He said this for two reasons: the first is that he deals with 24 different music sub-publisher agent distributors around the globe, and the second is the language issues. He sighs and says that each territory has different ways of doing things with the biggest cultural issue he faces is the different styles of music preferred around the world. He gives the example that Australian musical tastes are different to Scandinavian, and to Japan or South Korea. He notes that South Korea, which is one of his top territories, likes more upbeat music that can be used for positive advertising for example than dramatic style compositions. In the USA it is more drama style scores that earn the bucks. Art said he cannot always give one territory everything they ask for as it could limit what he can give to other territories. He has a pre-planned album release schedule at least 6 months before the start of each new year, where his company, 101 Music, releases on average 8 new digital albums per year. Each album release contains 12 original main titles (e.g. songs/track/scores), and from each title he also delivers various alternative versions, such as 30s, underscores, stings and various mix-outs. This supplies the client / user, for example the television / film producer and editor, the most diverse possibilities from each track title, increasing the possibility for the highest use from his music. 101 Music is organic and evergreen, meaning that he uses real musicians on all his productions, along with some electronic programming. The benefits of using real musicians on his productions creates a long tail effect, keeping the music product more useful for a longer period as opposed to music being produced with dated electronic type sounds. With this formula in place, his catalogue will not become outdated too soon, as it has much more of a shelf life using real musicians and real instruments.

His company's combined mission and vision statement is:
101 Music Pty Ltd® creates original music uniquely designed for powerful storytelling. Quality, value and artistry are our priorities, delivering 'emotional solutions through music'.

Music is an invisible character, working as a 3rd dimension to define stories. 101 Music Pty Ltd® is a distinctive music catalogue that delivers the ambience, the mood, the feeling, the emotion, the tone and the atmosphere you need to propel the stories you want to tell.

'101' focus Keywords
articulate, imaginative, expressive, inspiring, compelling, evocative, intelligent, inventive, unique, original, evergreen, organic.

IV. Business case examples
9. Provide a case you managed well and why?
When Art first started his music library business, 101 Music Pty Ltd, he had to set up a solid sub-publisher network to market his music in each territory and region across the globe. In one territorial instance, Art signed with a large sub-publisher company that was keen to take his product for distribution and licensing, but they did this for their own "multi-brand" strategic purposes, and the deal was not favourable in the end. He advised that organisations do this if they want to create some competition for one or more of their other clients, so that they appear to be competitors. They end up owning multiples and saturate their market – good for them – but not so good for a new boutique music library, as he then becomes diluted with a massive amount of other music. Competition is good – you just need to gauge how you deal with market saturation.

(Authors' note – A "multi-brand strategy" is a business strategy involving a company marketing several similar products as competitors, each with their own individual brand name. This "multi-brand strategy" does have some advantages as a way of securing greater shelf space with little remaining for rival products).

Sometimes sub- publishing companies want certain territories that Art was not happy to give, but he agreed to this on occasion to be able to sign on with a very large multinational organisation. This arrangement can be acceptable, but he could have earned more income in some of the territories that he wanted to give to other smaller sub-publishers. He finally exited this arrangement and commenced individual deals with small sub-publishers in each territory, as he calls the 'indie approach in representation' (that is, the smaller independent companies). Since then, he has built up a solid business comprising well-targeted sub-publishers that have the right "feel" for his music library. They are the ones who work his catalogue and obtain value from his assets. They share a percentage in the asset on a licensing arrangement, therefore it is in their best interests to get use from his music catalogue. He tries to get the best publisher for his needs. He always keeps an eye on the results, which usually takes from 9 months to 18 months to see income results from a music license that happens today.

10. Provide a case that did not go so well, and why?
At one moment in Art's career he had a business venture with a partner. While the other partner was keen about the business and its opportunities in the early stages, the partner did not contribute the matching effort that was required to run the company, especially after the first two years of the venture. In addition, the partner was not able to match the investment dollars that were required to propel the company forward, whilst Art continued to fund the company with capital from his personal funds.

After a few years things were falling behind, there was a lack of production output and care from the partner with not much consideration nor respect for Art. The partner was not able to deliver the necessary joint output that is excepted for success and did not understand the inner mechanics of the business even though the partner worked in areas associated with this business type for decades. This was surprising for Art to realise, and extremely disappointing especially as Art was very loyal to their previous working relationship when the partner was a worker in Art's other business. It was obvious to Art after year four of this venture that this could not continue as it was affecting Art's reputation, as well as his inner passion.

Art had considerable difficulty dealing with this until he made the decision to remove the partner from the company. While this was a relief, it was a stressful process, as they were friends for many years. Art had employed the partner for some 20 years prior as a worker in Arts' main business, yet when bringing that partner into the business itself was not the same as contracting the services as before. Art no longer believes in 50/50 business arrangements. In marriage and in friendships YES, but in business there needs to be one partner who has a 'veto' advantage. 51/49 % works, as 60/40%, 70/30, etc. Nevertheless, YOU MUST have a partnership agreement, or a business shareholders' agreement in place if you are registering as a company. There needs to be a written document in place to spell out what you will do when something goes wrong, and when you fall out of business love.

Art also concludes that it can be very unfavourable to go into business with friends.

11. What conclusions can be drawn by comparing these cases?
In relation to Question 9 (Provide a case you managed well and why?), Art learnt that there is a place for dealing with large corporates and a place for using smaller "indie" (independent) companies. He believes that over time this may change as there are external threats affecting indies, where these small sub-publishers are beginning to sell out to the large corporates. To protect his interests, he is continually looking for new opportunities and sub-publishers in case this happens to those that he is dealing with. As he owns the copyright as a writer and performer, and also owns the product as a label, his assets guarantee him a certain income stream.

In relation to Question 10 (Provide a case that did not go well and why?), Art has concluded that even 50/50 two-person partnerships are problematic and should have uneven ownership percentages to ensure that only one partner has the right to make final decisions. He said this is to provide some certainty on control and decision making. He felt that there should be a formal fully documented agreement that specifies the mechanics of what should happen if the partners have a disagreement or wish to dissolve the partnership. Art advises the importance of fully scoping out the specific characteristics of the industry you are entering. Take time to read your agreement and do not sign it until you understand its full ramifications.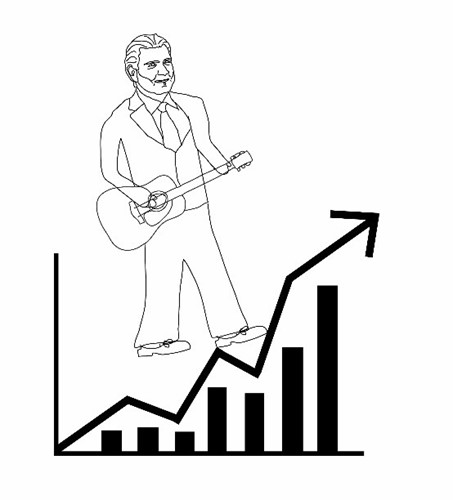 "There is only one arrow I like – the one heading northeast!"

12. Were these business cases affected by cross-cultural issues?
Art considers that all these business cases were affected by various cross-cultural issues. Even in Australia there can be misunderstandings based on cultural backgrounds. Art advises people to concentrate on their core strengths, and in his case it is the creator of music and not just as a music publisher. He even has a sub-publisher that represents 101 Music Pty Ltd in Australia and New Zealand, to allow him to concentrate on his own area – the creation and manufacturing and production of music audio product envisioned to be used in film, television, advertising, games and internet audio visuals.

V. COVID-19
13. How has the virus affected your business?
Most of Art's income is from copyright content used in film, television and other work rather than performances. Approximately 8% of his music is on radio advertising and the balance in visual content (film, television etc). With the reduction on visual production due to covid restrictions he expected a drop in income. This drop, however, will not be immediate as there is a timing difference between the time a user licenses a song from Art's music catalogue to the time he receives the income royalties. This is due to the time taken along the various stages from when the music is used to when the publisher receives the royalty, to the time it distributes to 101 Music. In mid-2020, from when COVID-19 really started the affect commerce, he realised that he needed to forecast his income. Projections and assumptions are critical in every business. The first step was to forecast his income for the next 12 months, that is to mid-2021. He forecasted a drop of around 50% to 60%. In mid-2021 he began to see a 20% reduction. Last year Art analysed the business and considered the option of cutting all his production output to zero, as it is expensive to create and manufacture the product, for example the cost of goods sold/direct costs. While that would have saved him some money in the short term, he realised that the effect of this would be that he would not have fresh music releases and resulting in him being pushed down the search engine algorithms losing potential business in the longer term. Instead, he decided to start issuing compilation albums which keep the music releases going and reduces high production costs. This is working and he is happy to see the results.

14. What lasting impact do you think it will have on your business?
He is now planning to continue to issue compilations after every new original album, which he considers will provide him on-going savings. Art thinks that he can continue this strategy for around three more years. He hopes that the pandemic will be finished by then. Foreign publishers seem to like his variety of playlists, for example the compilation album repackaging and releases, thus assisting to extend the life of his music assets.

15. What have you learned from it that you will now implement in your business?
Art says you always need to be evaluating your business and not to be afraid to look into new ideas of trying something different. Also, he says that it is important to plan as soon you are aware of a problem or opportunity. A drop in income is not necessarily a bad thing as it can make you investigate new options. He is always reviewing his sub-publishing relationships, for example his music distributors, and to analysis how they are performing in their own region (territory), and how 101 Music Pty Ltd is performing for them in their territory.

He believes that having the right distributor and sub-publisher is the key to success in each region, and that every territory is not the same as another. His company, 101 Music Pty Ltd, is highly involved with cross-cultural business arrangements and contracts.

VI. Family business
16. Are you in a family business?
Art says it is not a family business.

17. From your experience what do you think are the advantages and disadvantages of family working in the business?
Art uses contractors rather than staff. He advises that he is involved in his wife's business which could be seen to be a family business. However, he works in a limited capacity in her business. He has observed other family businesses and sees the inherent difficulties in such an arrangement. He sees separation of family or friend's relationship to the business relationship as vital. In the same way Art built his commercial recording studio facility and offices separate from home to ensure family and work separation. Art says working with family and friends needs a careful base of understanding and sharing of responsibilities.

The Authors discussed with Art John D. Rockefeller's saying, "A friendship founded on business is a good deal, and much better than a business founded on friendship". That is, if the business relationship is already established then forming a friendship is relatively easy, whereas if you are friends first then you need to establish the business relationship which can be difficult.

Authors:
For more information see: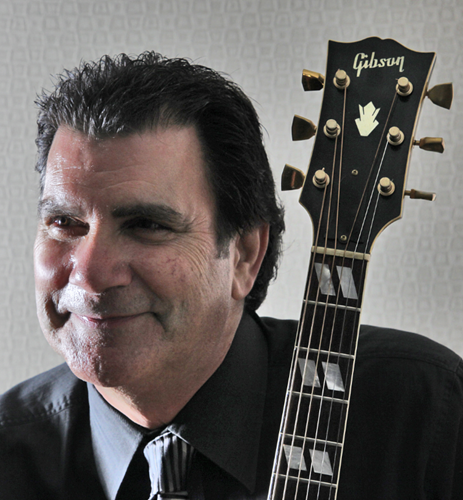 Art Phillips with his Gibson L-12 acoustic guitar built in 1937.

Art's music can be found on all digital stores including Spotify. Some can be found by searching Art Phillips, some Arturo DiFilippo and many others by searching for Art Phillips and the 101 Music Group.