A book on entrepreneurs
What can we learn from everyday successful Australian entrepreneurs?
A realistic view of successful entrepreneurship.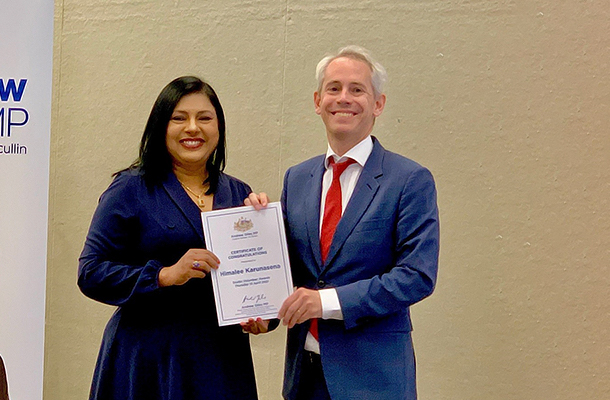 NOW READING
Interview 3: Himalee Karunasena
16.6.21 | UBSS Interviews
Published by
Foreword
The Universal Business School Sydney (UBSS) commissioned Cyril Jankoff and Daniel Bendel to write a second book for them, a book on entrepreneurs. Its purpose is to give new local and international undergraduate and MBA students a feel of what every-day Australian business success looks like. To give a realistic view of successful entrepreneurship the authors chose 15 successful entrepreneurs and will interview them. This is the third interview. Each interviewee will be asked the same questions and at a later stage the authors will review all interviews and summarise the commonalities. The focus of the cases is on Sections III to VI.

Himalee Karunasena
From a migrant to founding and operating various businesses while being an employee
A natural Entrepreneur for both her family and for the community.
Himalee migrated to Australia from Sri Lanka and was quite shy and protected within her community and in an arranged marriage. Slowly whilst working as an Accountant she developed a lot of self-confidence to the point of establishing several successful businesses.
Category
Part time entrepreneur. Student to employee where she has remained but has been actively involved in family entrepreneurship outside her steady employment. See link below for further information on how to do this. (The balance small business, 2021). Himalee herself may be part time but each of her businesses has full time staff including family members.

I. Key dates
Himalee migrated to Australia in 1988 when she was in her early twenties. She had her accounting qualifications but was lacking experience in general business.
She was soon able to obtain an accounting position in a medium size manufacturing company.
Himalee continued to study to improve her qualifications and became heavily involved in community activities and volunteering for a large array of professional and social causes (see list in Question 3, below).
She married Vijaya, a Civil Engineer and had her wedding in Sri Lanka in 1992.
She is always keen to look out for opportunities.
Started Taprobane Books and Gifts to import books on Buddhism from Sri Lanka to the first ever Buddhist convention held in Australia in 2002.
Her first major opportunity came when she purchased a petrol station business with her brother and sister-in-law in 2004.
In 2008 she bought the petrol station's freehold property.
From 2010, she saw an opportunity for Taprobane Books and Gifts to supply books and other items to refugee camps under Australian Government control.
In 2013 she purchased a local post office in partnership with her sister and brother-in-law, with each family owning 50% of the business.
Himalee went part time with her employment with the manufacturing company to concentrate on her business activities and to complete her registration as a Tax Agent. She has pursued this to provide long-term retirement income.
She investigated purchasing a business providing tax return lodgement type services but when she did her due diligence, she found out that the business was not run properly. As a result, she did not proceed with the purchase. This matter is discussed in more detail in Case 1 in Item 10.
Himalee has continually been reinvesting her income into a property portfolio.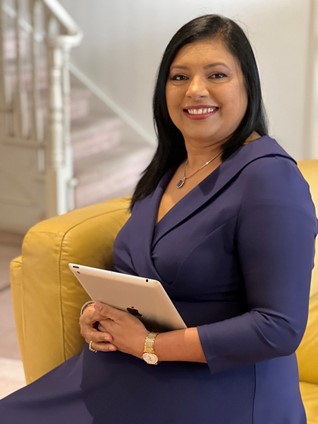 From a migrant to founding and operating various businesses while being an employee.

II. Getting to know the person.
1. What is success?
Himalee sees success as achieving a number of things which are more or less in the following order:
Happy family life.
Financial independence, for both during the main part of her life and for the retirement phase.
Ability to help people less fortunate than herself.
Achieving work fulfilment.
2. What is your favourite TV show, movie or book and why?
Himalee likes classic musicals, her favourite being the 'Sound of Music'. She likes the philosophy in the movie. She admits to watching some NCIS on TV. In addition, Himalee watches the occasional Sri Lankan movie in Sinhalese, the main Sri Lankan language.
3. What are your hobbies and/0r interests?
Himalee has many hobbies and interests:
Travelling, sightseeing, family outings and fine dining. She has been to many places including New Zealand, USA, Canada, Mexico, Thailand, India, Sri Lanka, Singapore, Malaysia, Myanmar and Maldives. She said that on her to do list is Europe, Japan, Egypt, Vietnam, partake in an African safari and relax on an Alaskan cruise.
Movies, stage shows, musical events and dinner dances.
Enjoyed broadcasting on SBS radio and 3ZZZ radio Sinhala programs and producing children's TV programs for Sri Lanka Morning Show on Channel 31 on Sundays.
Supervisor, CPA Program – employed by Pearson Education. Marked candidate responses for Ethics and Governance since 2000. Received Certificate of Acknowledgement for participation and contribution to 25 marking weekends of CPA Program.
Board member and the Treasurer of School Council of the Victorian School of Languages since 2004.
Board member and the Treasurer of VICSEG (Victorian Cooperative on Children's Services for Ethnic Groups) New Futures since 2016. This is an incorporated not for profit, community organisation.
Board Member and the Treasurer of Hume Whittlesea Local Learning and Employment Network (HWLLEN) since 2019. It is a not-for-profit membership-based organisation that works at the strategic level to assist young people to complete Year 12, or its equivalent, and improve transition outcomes for them.
A founding governor and the treasurer of the Migraine Foundation Australia since 2019.
Honorary treasurer for two community organisations and honorary auditor for 8 community organisations.
A pioneer in Sinhala Language teaching in northern suburbs for over 30 years.
Chairperson of the Sri Lankan Ladies Group of Whittlesea since 2015.
Vice President of Foundation of Mindfulness Australia since 2018.
Contested for North East Ward of the City of Whittlesea at 2012 Council Elections but was not successful.
Was a member of the Sustainability Advisory Committee and Litter Prevention Taskforce of the Whittlesea Council.
Treasurer of the Northern Melbourne Sri Lankan Seniors Club since its inception in 2008 and enjoys providing volunteer services to senior Citizens.
Certificate of Appreciation in recognition of voluntary service to the community in 2001 International Year of Volunteers from the State Government.
'Radio Presenter (Female) of the year 2006' award presented by Serendib News Awards at Crown Palladium in Melbourne.
Certificate of Appreciation for the contribution to 2009 SBS Radio and Red Cross Bushfire Appeal, from SBS Radio.
'Recognition of Excellence Service' award from Victorian School of Languages (VSL) – 2011.
'Female Volunteer - 2014 Business & Community Award' presented by Serendib News Awards at The Grand on Princes in Mulgrave.
Certificate of Congratulations for Volunteer Services to the Community - April 2021
Author's comment:
One of the Authors has a personal recollection of Himalee's desire to help communities. In around 1996 she was working as an employee accountant for a large manufacturing company. She heard that a radio station was promoting a competition with the prize being a private concert for the winner's employer by a popular local music band known as "Bachelor Girl". She quickly entered the competition and won the prize. She approached the manufacturing company, which was very conservative and initially very reticent. However, she managed to persuade senior management (with help from the author) to host the pop group. It was a fantastic day and a huge morale boost to the staff.
How does she have the time?

III. Tips
4. How did you get through your worst times?
As a keen follower of Buddhism Himalee applies its philosophy and wisdom to overcome challenging and difficult situations. Her family support also helps a great deal when she needs extra support.

5. What keeps you awake at night?
Himalee finds that she can separate business issues from personal matters and is able to "switch off" to give herself some space. Interestingly she often wakes up with the solution to a technical business problem she has been struggling with. She feels that taking a break from a problem often allows her mind to relax and let the subconscious do the work. She feels that practising Buddhism and meditation assists her.

6. What are your typical daily routines?
Himalee often takes a walk in the afternoon. She normally wakes at 6 am and goes to bed at 11 pm. She has volunteered to arrange lunch for a Buddhist Monastery. She checks the Monastery's website every morning for requests from devotees to offer lunch and allocate dates for them. She then has a system including:
checking all her banking balances and transactions.


(Authors note – An excellent way of picking any fraud early)

checking Facebook for 5-10 minutes for any special social events
checking her emails for any business issues
clearing any action items and put emails into separate folders.


7. What advice would you give yourself starting out?
Himalee advises that we should not be afraid to take calculated risks. She feels that although we need to do our due diligence first, one's "gut feeling" is still very important. She further advises that we need to be careful when going into a new area. Australia has so many opportunities, but it is advisable to study the area you are interested in or working in and have an understanding of the relevant laws and regulations as there are many little things that can trip you up. She advises that you need to have the knowledge to defend yourself against the "sharks circling everywhere", and "know what you are doing so people cannot take advantage of you".

IV. Business case examples
8. Provide a case you managed well and why?
Case 1 – Petrol station/ Mechanical workshop
Himalee' s brother, unbeknown to Himalee's family, was working as an apprentice motor mechanic when he was supposed to attend Monash University engineering. He did this because he enjoyed the work and eventually told her. He became worried about his job when the owner was going to sell the business (but retaining the freehold). Himalee investigated the business and purchased it in 2004. The business was quite successful and is still operating today. Her brother now has a one-third share with Himalee and her husband Vijaya owning the other two-thirds. It is an old-style full driveway service type of petrol station. It was supported by the local community and promoted by Fox FM radio and Channel 9.

In 2008 the owner wished to sell the freehold property. Himalee offered $1.2M which was already a high price, but the owner refused and wanted more. Himalee took advice from one of the authors to appoint a buying agent who was not known to the owner. At the auction, which Himalee did not attend, the buying agent was successful in buying the property for substantially less than the original asking price. The owner was furious about this as he expected to obtain a high premium for the property from Himalee as she had a vested interest in the property. This was Himalee's first business venture and has been a very successful one to date.
Himalee's parents also help in running the business. Their ideas and contributions have been an immense help for the success of the business and freed up Himalee's time for her to take up other challenges.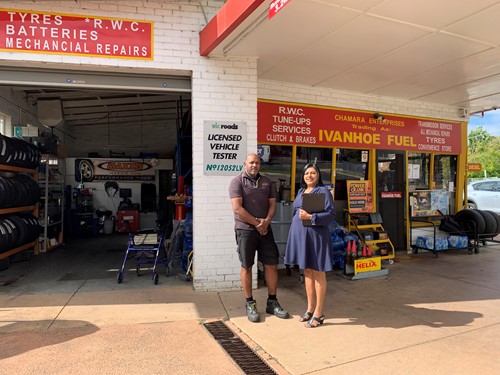 Himalee and her brother in the service station

Case 2 – Taprobane Books and gifts
The first ever Buddhist convention in Australia was held in Melbourne in June 2002. Himalee was one of the organising committee members. There was a need to display books on Buddhism written in English at the convention. Himalee formed Taprobane Books and Gifts and imported books from Sri Lanka.
Later she continued the operation of Taprobane Books and Gifts as a home-based business, and it became the sole agent for almost all the major publishers in Sri Lanka.
At the time there was a good demand for Sinhala language books, music CDs, VCDs and DVDs within the Sri Lankan community in Australia. Himalee continued importing those items and sold them from home. Also, she held books exhibitions at Sri Lankan community events to promote the business. Though there is not much demand now, she has still got some customers and import books on demand.
The period between 2010 to 2014 was the peak of when Sri Lankan refugees migrated to Australia. During this period Himalee saw an opportunity to supply books in the Sinhalese and Tamil languages and associated giftware to refugees in government detention centres. This business grew rapidly, and she expanded into other languages including Arabic, Urdu, Hindi, Farsi, Dari, Vietnamese, Mandarin and Burmese etc.
She did not stop there and expanded the services to supply a vast array of items including recreational items such as billiard tables, table tennis tables, carrom boards and commercial grade microwave ovens among other things. This business has levelled off in the past few years.

Author's comment: The success of this business shows the advantage in thinking 'outside the box' and looking at gaps in the market.

Case 3 - Post office
Himalee noticed a post office in close proximity to her petrol station. At the same time her sister was looking for a job. At this stage Himalee was also looking into viability of investing in an aged care business which her sister could manage. Her sister was initially interested in aged care but later was reluctant because of the strict and detailed regulations involved.

In 2013 Himalee heard that the post office was for sale. She investigated the business and determined that it was a viable business for her family, and the price was less than that of other similar post offices. An issue was that her sister would need to learn the business and do some unpaid training, but the benefit was that the running of a post office was not as regulated as aged care. After some further investigations she went into the business 50/50 with her sister and brother-in-law. Her sister now draws a reasonable salary, and it has been a good investment. Initially she saw great opportunities for expansion perhaps including a pharmacy. In the end only the giftware side of the shop has expanded. Himalee considered this investment as a calculated risk with capital growth.

Author's comment:
Employing friends or family can work but there needs to be a very strong understanding of everyone's role and full transparency of how the business works and of course, a high level of trust.
After buying a petrol station and a post office, Himalee seems to be playing a real life "Monopoly" game, which means a railway station must be next (😊).


9. Provide a case that did not go well and why?
Case 1
Himalee is a keen accountant and was interested in developing a taxation practice, particularly as a business that she could conduct during her retirement period. To prepare for this she became a signing agent for an accounting practice on a part time basis and to balance her work, she reduced her hours as an employee in the manufacturing company. The owner of the taxation practice unfortunately had a terminal illness, so the power of attorney for the owner had to sell the business. Himalee was quite interested in this opportunity. However, while she was conducting her due diligence, she noticed some serious irregularities in the operations of the practice. She officially reported her findings so that she would not be personally implicated in the wrong-doing, and then backed out of this transaction. Himalee realised that the best thing to do if something is not working properly and is unlikely to be corrected is to withdraw as quickly as possible. Her philosophy is that a small initial loss is better than a later big loss (in terms of dollars, time and especially reputation, both personal and professional).

Case 2
The petrol station business also has a mechanical workshop with the Licensed Vehicle Tester (LVT) licence to conduct roadworthy testing and to issue roadworthy certificates. Himalee's brother is the roadworthy testing mechanic and authorised person to issue roadworthy certificates. Unfortunately, due to a poor driving record he had his driver's licence suspended for 6 months. Himalee later received a letter from the state's roadworthy testing authority suspending the workshop's LVT licence as a result of the suspension of the testing mechanic's driver's licence. This became a big loss to the business as issuing roadworthy certificates had been a major source of the workshop's income. Himalee assumed this was only a temporary suspension and the LVT licence would be reinstated when her brother's driving licence was reinstated. Later she received a letter stating that the workshop's LVT licence had now been cancelled. In the first letter it was stated that she needed to take action to nominate another testing mechanic to keep the LVT license active. Himalee, not being experienced in this area, was confused and did not take any action. As she did not comply with the requirements the LVT licence was cancelled. Himalee unsuccessfully appealed to the authorities and she was forced to apply for a new LVT licence. It was an expensive and time-consuming process which took 18 months in which full courses and tests and interviews had to be redone. Finally, the licence was regained in 2021.

Author's comment – red tape bureaucracy is the bane of our lives but is often best dealt with using patience and perseverance rather than anger. Said another way, if you do not understand it, get professional help.

10. What conclusions can be drawn by comparing these cases?
These cases highlight the importance of "local knowledge" and while taking business risks, you must follow through promptly and thoroughly on the high-risk elements of the business venture. This is reflected in the need to examine closely any communication from the regulating bodies for any fine print because dealing with the bureaucracy can be expensive and time consuming if you do not get it right.

The other important lesson is the advantage in working in a business before investing in it. Before buying a business there is a big advantage in working in a similar one first for a while to pick up the nuances. This is especially valid in the more regulated type of businesses, for example petrol retailing (aged care is another one).

11. Were these business cases affected by cross cultural issues?
Himalee was sponsored by her aunt and uncle and migrated to Australia as a permanent resident. She came to Australia with another aunt and uncle. She had her accounting qualifications but was lacking experience in general business, personal confidence and an understanding of Australian culture. She found that the freedom, openness and humour in Australia took a lot of getting used to. She remembers one time when a staff colleague swore in general business conversation and found this very confronting. She recollected that when someone from management entered her office she used to stand up and call them Mr or Mrs. She quickly realised the informality of Australian culture and adapted to it.
Himalee had an arranged marriage. She says that in retrospect there was more due diligence performed in this, including matching horoscopes and background checks by the respective families and examining of options, than occurred in most marriages, or indeed in most businesses! Himalee says that marriages are much more than just the union of two people involved.
Himalee sees Australia as a land of opportunity, and anyone can achieve success if they are confident and prepared to take some risk. She stated that one big advantage in Australia is the low level of corruption compared to many other countries overseas. She has occasionally felt being looked down, but this has not affected her activities.
Case example
Himalee needed an environmental report for the petrol station as a requirement for bank finance. This is usually obtained every few years at a cost of around $20,000 to $30,000. The relationship manager of the bank (one of the major banks) insisted on an extra environmental report and Himalee had to hurriedly obtain it. Partly due to the rush, the report turned out negative. Under a lot of pressure Himalee was forced to find alternative finance which she eventually did find. Himalee feels there may have been some cultural and definitely sexist undertones in the way she was dealt with.

Author's comment - (perhaps lodge complaint with Australian Financial Complaints Authority)

On the other hand, Himalee's strong Sri Lankan family culture helped build one of the very few full driveway service petrol stations. Her petrol station has endeared itself to many people including elderly and others who appreciate the service. In some sense their culture has enabled them to be successful and be appreciated by a full range of customers.

V. COVID-19
12. How has the virus affected your business?
Himalee has learnt a lot about running a business and understanding how to take calculated risks. All this has helped Himalee to manage the family's various businesses during the 2020-2021 COVID-19 pandemic. The JobKeeper scheme and the State's business support programs have greatly assisted the petrol station and post office businesses to stay viable. Even though petrol stations and post offices come under essential services, the constant lockdowns during the pandemic made running them during the lengthy lockdowns a loss-making businesses.

13. What lasting impact do you think it will have on your business?
As with many difficult situations the businesses likely to survive are the ones in which the owners search for creative ways to build, adopt and manage their customer base, and especially in difficult times. The COVID-19 pandemic is one such examples.

15. What have you learned from it that you will now implement in your business?
She has learned to be more careful with her time. With working routines turned upside down during COVID-19 she has an arrangement with her manufacturing company employer to work at the office only one day per week. This gives her more flexibility and saves on travelling time.

She has also learned to be creative and proactive. With the Post Office business Himalee has seen a significant increase in sending and receiving parcels during the Covid-19 pandemic period which was good for the business. Himalee trialled selling nonstandard items at the Post Office. Interestingly ice-cream has become one of the best sellers.

VI. Family Business
15. Are you in a family business and from your experience what do you think are the advantages and disadvantages of family working in the business?
Her response as to whether she is in a family business was "Yes – definitely".
She provided the following summary of family business.
Advantages:
Family members benefit as the wealth is often distributed among the family.
Less formality in conducting meetings and implementing decisions.
Family members share the workload and work over and above the normal call of duty under demanding situations.
Achievements are not measured only by financial means. Working together as a happy family alone is a big achievement.
Higher resilience under difficult situations – for example, survival under the COVID-19 pandemic situation.
Easy to make decisions - no red tape.
Very flexible working conditions.
Disadvantages:
If personalities are not flexible, making important decisions could be hard.
Serious disagreements could have an impact on family relationships.
Growth is limited by the motivation of the family members.
If the business is not expanding and not employing new personnel, the skill set will be limited.
Some members may not be serious about following guidelines.
Opportunities and motivation for professional development is limited.
Going on holidays together as a family will not be easy.

Authors:
• Cyril Jankoff
• Daniel Bendel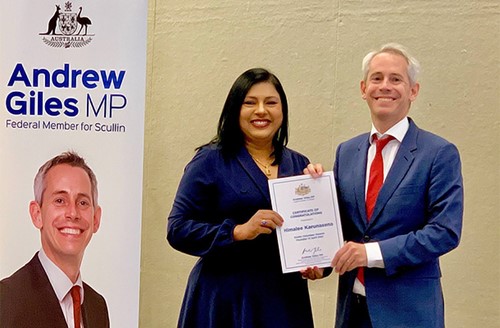 Himalee receiving her Certificate of Congratulations for
Volunteer Services to the Community
(April 2021)