Undergraduate Program
Bachelor of Business
The first step in your pursuit of a successful career in business. This course is designed to give you an introduction to the foundations of business.
Undergraduate Program
Bachelor of Business
The first step in your pursuit of a successful career in business. This course is designed to give you an introduction to the foundations of business.
Bachelor of Business
Course Structure
Award
Bachelor of Business
Australian Qualifications Framework (AQF)
Upon completion this award is recognised in the Australian Qualifications Framework at Level 7.
Units of Study
24 Subjects
 
*UBSS Bachelor degree awards have exit points at Associate Degree and Diploma level. All UBSS courses are listed on CRICOS for delivery to international students.
Bachelor of Business
Course fees
Tuition Fees 2021
Please click the link below to view the price list for Undergraduate
Undergraduate Price List 
Ancillary Fees
| Item | Fee ($AUD) |
| --- | --- |
| Enrolment Fee (International Students) | $200.00 |
| Deferral Fee | $100.00 |
| Course Extension Fee | $100.00 |
| Supplementary Exam Fee (per subject) | $250.00 |
| Student Card Replacement | $20.00 |
| Replacement: UBSS Testamur – collected from GCA | $30.00 |
| Replacement: UBSS Testamur – local mail | $40.00 |
| Replacement: UBSS Testamur – international mail | $50.00 |
| Replacement: UBSS AHEGS Statement – collected from GCA | $30.00 |
| Replacement: UBSS AHEGS Statement  – local mail | $40.00 |
| Replacement: UBSS AHEGS Statement  – international mail | $50.00 |
| Late Payment of Tuition Fees Fine:  UBSS (post census date) | $250.00 |
| Replacement Commonwealth Assistance Notice (CAN) (UBSS Fee-Help Students) | $20.00 |
| Academic Dress Hire (for attendance at UBSS graduation ceremonies (non-refundable for non-attendance) | $100.00 |
| Confirmation of enrolment (CoE) Fee | See below |
Confirmation Of Enrolment (CoE) Fee
What is a CoE Fee?
The Student's CoE Fee consists of two (2) components mainly
All Providers registered on the Commonwealth Register of Institutions and Courses (CRICOS) are required, under Section 23 of the Education and Services for Overseas Students Act 2000 ( the ESOS Act) and Section 8 of the Education Services for Overseas Students ( Registration Charges ) Act 1997, to pay an Annual.  Registration Charge (ARC). The ARC comprises a base fee, a fee for each course registered on CRICOS plus a student enrolment component. This is calculated on the total number of enrolments of overseas students on student visas in each course provided.
Administrative and processing costs of maintaining the accuracy and completeness of the Commonwealth Government's Provider Registration and International Students Management System ( PRISMS).
All prices are quoted in Australian Dollars ($AUD) and are inclusive of GST where applicable. Course availability is subject to minimum numbers. The enrolment fee is non-refundable.
Please see GCA Refund Policy for full details.
1. All international enrolments attract an initial CoE fee.
2. Changes to the enrolment will incur a CoE processing fee under the following circumstances;
deferment requests
course extension requests
re-enrolment after non-commencement of studies
re-enrolment after a student discontinued for:

non-payment of fees​
unsatisfactory academic progress
academic or general misconduct​
3. The CoE fee is based on the duration of the CoE. As a guide
If course duration is 2 years then $65.00
If course duration is 3 years then $97.50
All fees can be paid by: BPAY (preferred), Bank Transfer, PayPal, PayPal Credit Card and Credit Card (MasterCard & Visa only) (in keeping with best industry practices no cash payments will be accepted). For full details please click here.
Bachelor of Business
Entry Requirements
Domestic Students
If you are a domestic student you can apply online direct to UBSS.  Our friendly student service assistants will get back to you within 2 working days to discuss your eligibility. For domestic students there are four new entry pathways into your UBSS course:
Recent High School Leaver with ATAR (within 2 years) 
Transfer from other universities 
VET study pathway 
Work and life experience
International Students
For complete entry requirements to Bachelor of Business, please read the UBSS Course Admissions Policy
(Undergraduate Courses, Section 5.2 page 6).
Please view the link below.
Bachelor of Business
How to apply
All course and enrolment inquiries are handed by the Admissions Centre. To apply for any course at UBSS complete our application form.  Before submitting your application form please ensure that:
You have selected the course you want to study
You have selected the date you would like to start.
You have certified electronic copies of your personal identification documents, academic certificate of completion and academic transcripts. 

Letter of Offer
You will be contacted by one of our friendly admissions staff after submitting your application. Successful applicants will receive a letter of offer from the admissions centre which includes your course information and course fees.
Accepting Offer
If you have received an unconditional offer you can accept straight away by logging into the UBSS student portal  to accept your offer.

If you have received a conditional offer, this usually means you need to send us more documents or talk to the admissions staff on the details provided on the conditional letter of offer, to show you meet the minimum academic requirements to enter UBSS. This should be done at your earliest convenience.
International Students
If you are an international student, a Confirmation of Enrolment (CoE) will be issued upon receiving your fees. The CoE is required if you are outside Australia and intend to apply for a student visa. Please be aware that the processing of your visa may take 6 weeks or more.  Study Intake Dates UBSS has three (3) intake dates per year, which provide flexibility for new students. Each trimester accepts new students at UBSS. New student applications should be received at least one week prior to the commencement date for each trimester.  UBSS trimester commencement dates are in:
Trimester 1: January
Trimester 2: April - May
Trimester 3: August
For specific academic calendar details please visit: https://www.ubss.edu.au/academic-calendar/ New students are to ensure they are available to attend the orientation prior to the commencement of trimester.
Bachelor of Business
Career opportunities
| General | Applied Finance | Human Resources | Marketing |
| --- | --- | --- | --- |
| Project/Operations Manager | Finance Officer/Manager | HR Officer/Manager | Marketing Coordinator |
| General Manager | Corporate Treasury | Staff Recruitment | Social media & online marketing |
| Management consulting | Entrepreneur | Staff development & performance | Marketing planning/strategy |
| Entrepreneur |   | Entrepreneur | Entrepreneur |
|   |   | Workplace/industrial relations | Advertising |
|   |   | HR Project Management | Events/facilities/project management |
|   |   | HR Policy Development | Communications |
Bachelor of Business
Graduates will learn skills in strategic management, leadership, innovation and entrepreneurship delivered through an integrated range of subjects that support successful personal and business development.
The course is designed to consider the challenges faced by businesses and expose students to the concepts and theories that explain how the business world operates. Practical application of these theories in the form of business simulated games, group work and individual projects will be integral to your learning experience.
Take the fast-track option to get your degree sooner, or get there at your own pace and exit with an Associate Degree of Business or Diploma of Business.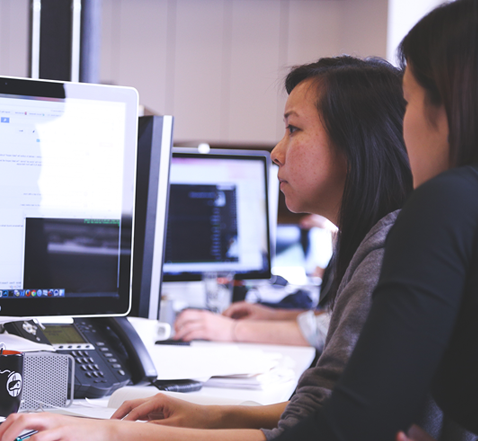 Year 1
Trimester 1
| Subject Code | Subject Name | Credit Points |
| --- | --- | --- |
| BAS22 | Advanced Business Communication | 3 |
| BBM123 | Management Principles | 3 |
| BAC21 | Quantitative Methods | 3 |
| BAP12 | Accounting for Business | 3 |
Year 1
Trimester 2
| Subject Code | Subject Name | Credit Points |
| --- | --- | --- |
| BAS11 | Business Economics | 3 |
| BAS121 | Marketing Fundamentals | 3 |
| BBM251 | Cross Cultural Management | 3 |
| BAP11 | Principles of Accounting | 3 |
Year 2
Trimester 1
| Subject Code | Subject Name | Credit Points |
| --- | --- | --- |
| BBM265 | Organisational Behaviour | 3 |
| BBM222 | Human Resource Management | 3 |
| BBC131 | Business Law | 3 |
| BBM241 | Operations Management | 3 |
Year 2
Trimester 2
| Subject Code | Subject Name | Credit Points |
| --- | --- | --- |
| BBM351 | Project Management | 3 |
| BAP352 | Risk Management | 3 |
| BBM221 | Marketing Management | 3 |
| BAC41 | Management Information Systems | 3 |
Year 3
Trimester 1
| Subject Code | Subject Name | Credit Points |
| --- | --- | --- |
| BHR103 | Strategic Management | 3 |
| BHR331 | Team Leadership & Change Management | 3 |
| BBM361 | International Business Management | 3 |
| BBM331 | e-Business Management | 3 |
Year 3
Trimester 2
| Subject Code | Subject Name | Credit Points |
| --- | --- | --- |
| BBE351 | Ethics & Social Responsibility | 3 |
| BAC61 | Capstone Project | 3 |
| BBM310 | Innovation and Entrepreneurship | 3 |
| BBM311 | Corporate Entrepreneurship, Leadership and Sustainability | 3 |