A book on entrepreneurs
What can we learn from everyday successful Australian entrepreneurs?
A realistic view of successful entrepreneurship.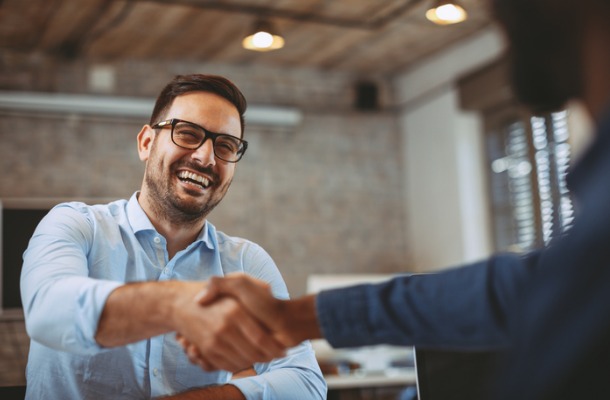 NOW READING
Interview 2: Rahul Daga
20.5.21 | UBSS Interviews
Published by
Foreword
The Universal Business School Sydney (UBSS) commissioned Cyril Jankoff and Daniel Bendel to write a second book for them, a book on entrepreneurs. Its purpose is to give new local and international undergraduate and MBA students a feel of what every day Australian business success looks like. To give a realistic view of successful entrepreneurship the authors chose 15 successful entrepreneurs and will interview them. This is the second interview. Each interviewee will be asked the same questions and at a later stage the authors will review all interviews and summarise the commonalities. The focus of the cases is on Sections III to VI.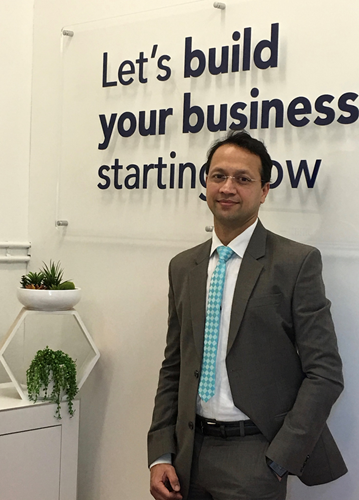 Rahul Daga
Combining a solid foundation of technical skills and family support to enable an entrepreneurial outlook.

I. Key dates
Rahul was raised in Solapur and Mumbai, India.
He has been with his Dimple, now his wife, since he was 18. He considers her his biggest support.
1987-1990: Diploma in Mechanical Engineering, India.
1990-1993: Diploma in Printing Technology, India.
1994-1995: Diploma in Lithography, at Westheart College, Watford, UK
1995-1999: Worked in India as a production manager.
1999-2004: Production Manager in Dubai printing industry
2004: Migrated to Australia 2004 and first job with Snap Franchising as a sales consultant.
2004-2006:

Worked with Snap as a sales consultant for 2 franchises.
Formed long term relationship with CEO and marketing heads of Snap Franchising office who offered Rahul an opportunity in a pilot program of a 'mobile franchise' of Snap Printing in 2011.

2006-2011: Further experience gained in business development in the industry.
Jun 2011: Signed agreement with Snap Franchise to commence a mobile franchise for a new territory, which had no previous franchise and did not have any existing clients.
Sept 2011: A large client from previous employment position approached Rahul to take over their print and marketing requirements as they were more comfortable to deal with him.
2011-2014: He walked and door knocked every business in the territory to introduce Snap's services.
March 2017: He bought Snap Kingsgrove, a second Snap Printing franchise to support his first franchise in Darlinghurst with a production facility and be able to control delivery times and quality of products. Snap Darlinghurst earns double the revenue of Snap Kingsgrove. The combined revenue of both franchises reached one million dollars in June 2019.

II. Getting to know the person
1. What is success?
Rahul sees obtaining results from hard work as success, particularly if it is his clients that are happy and satisfied. It means his hard work has paid off and is recognised. For example, from 2009 he managed to prove himself a reliable supplier at a reasonable price to the Universal Business School of Sydney (UBSS), the publisher of this book. This makes him feel successful.

2. What is your favourite TV show, movie or book and why?
He said that he does not have much time for TV, but he does watch occasional movies, reads books, and more recently he listens to audio books. His favourite book is Bhagavad Gita, the Hindu scripture that is considered to be the one of the main holy scriptures for Hinduism. He sees it as India's Bible and to him is a philosophy of life.

3. What are your hobbies and/or Interests?
Rahul likes watching and playing sport, particularly swimming. He represented his school at State level and pre-COVID-19 he was swimming several times per week. He used to teach swimming. (Author's note: I feel that he was better than the author's swimming teacher who threw the author into the deep end!) To release work pressure, Rahul goes for bush walking, cooks and sometimes also plays the bamboo flute. He uses YouTube for cooking tips.

III. Tips
4. How did you get through your worst times?
When Rahul landed in Australia with production and technical skills. As he had a family to support, he had to find work. However, he found the Australian market saturated with people with similar skills and thus he could not find work. Because he was used to the British accent in India he had difficulty understanding the Australian accent and had to ask people to repeat themselves. Faced with all these difficulties and not wanting to go back to India he had to re-invent himself. As he was not afraid of trying something different, he decided to use his knowledge of the printing industry to move into the business development / sales / marketing sides of printing. With his wife, Dimple, and family support, he decided to go into these sides of the printing industry.

From 2004 to 2011 he worked for others. His family was a great source of support during these times. Rahul also kept strong mentally and physically and kept working hard. He emphasises perseverance and never give up attitude. Rahul observes the mantra: listen, observe and take an action. In times of failure, keep trying as every situation is different. His relatives were successful. His father, a hard worker, who was a Chartered Accountant, is 73 and is very active and was and is a great mentor and inspiration for him. Rahul's father-in-law started out as precious stone grinder at the age of 10 and at 77 was Mumbai's biggest precious stone dealer, and was Rahul's biggest inspiration. He died late last year.

5. What keeps you awake at night?
Nothing, as Rahul sleeps well at night. His wife often asks him why he sleeps so well? He responds that he avoids dwelling on issues. He also feels that he sleeps well due to his regular exercise and particularly his daily yoga. Furthermore, Rahul takes care to thoroughly finish his tasks for the day so that he can start the next day fresh and can sleep peacefully.

6. What are your typical daily routines?
Rahul likes to follow the "Early to bed and early to rise". In the mornings he meditates, exercises, has a good breakfast and leaves for the office early. At work he organises his day as follows: phone calls early, appointments with clients mid-morning and site visits in the afternoon.

7. What advice would you give yourself starting out?
He purchased his first franchise in 2011 and he has been pleasantly surprised by how people were willing to help him. Rahul's advice is not to be afraid to ask people. (Authors note Just like you should not be afraid to ask for directions if your lost). Rahul suggests contacting successful people in your field to see how they have done it and ask them for some mentoring and some tips. He advises that the future of the printing industry is changing and becoming more personalised and more work on demand. It is certainly more complex than 10 to 15 years ago. He found that 3D printing is a slow growth business and has its own specific needs. His printing business includes a wide variety of products in addition to specialised business cards, and includes packaging, labelling, signage and a variety of marketing branding applications.

He advised that it took him seven and a half years to complete an MBA (a Master of Business Administration) degree, but it was the networking with other students that he has found the most valuable and would emphasise to prospective students this as a key benefit of an MBA. Studying while working and with a family requires perseverance and again was thankful for his family support. He feels that life is a matter of choice, live well, never stop learning, learn from experts in the field. He considers that one should not be swayed by adverse conditions, and one should keep doing one's job with integrity, keep sowing the seeds for future success. He feels that fruits will come so three is a necessity to be patient. He reminded the authors of the saying that 'Rome wasn't built in a day!'

8. What cross cultural issues did you experience? How were they overcome? How is Australia different?
Rahul has never had a bad experience in Australia in relation to cultural issues. The Australian accent was a challenge at the beginning. In addition it took some time before he could understand the slang.

IV. Business case examples
9. Provide a case you managed well and why?
One of Rahul's clients received a last-minute update from its client Tennis Australia which wanted 100% recyclable racquet tags for the Australian Open and wanted them as soon as possible. A deliverable was that the tag needed to be strong, light and flexible at the same time.

Rahul had to research various types of stocks as it was a very challenging requirement. Finally, with his contacts he found a synthetic stock which was also recyclable. This was then printed specially die cut to a shape which worked perfectly for tagging the racquet. Below is a picture of the tag in the video being promoted by Yonex Australia, a leader in tennis equipment. Here is the link to the video / post: https://www.linkedin.com/in/dagarahul/detail/recent-activity/ This solution proved successful as it met his client's technical and budgetary requirements.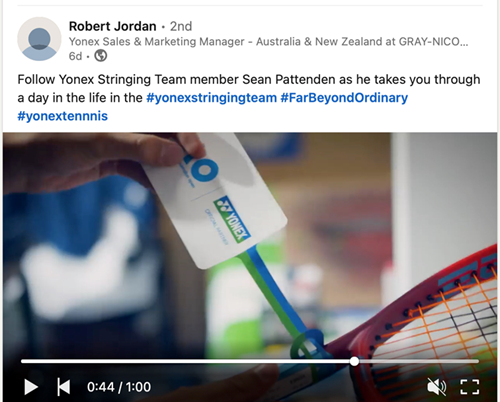 The 100% recyclable racquet tags for the Australian Open

Rahul feels that this was a good example of a team effort to think creatively to provide a solution to the client. He advises that it is important to support staff and give them the creative freedom to add value to the business, and they can often surprise you with their problem-solving creativity.

10. Provide a case that did not go well and why?
In 2017 when he purchased his second franchise there were staff difficulties and the existing employees decided to leave and join the departing franchise holder. He found running two franchises quite difficult but his wife, Dimple proved to be invaluable. The arrangement now is that for the two franchises she manages the customer services side whilst he manages the technical side.
The reason for buying second franchise was to streamline increasing demand and meet client timelines. However suddenly he found all his plans came undone as the production facility did not have a production manager. He went back to previous arrangements where he outsourced their production of goods to keep clients happy until they could get their staffing issue resolved.

11. What conclusions can be drawn by comparing these cases?
Rahul says "A Plan B or even a Plan C is required in business situations. In any situation, the customer should be the priority and then profitability."

12. Were these cases affected by cross cultural issues?
Rahul says, "No they were not".

V. COVID-19
13. How has the virus affected your business?
A major part of Rahul's revenue is from the event and training industry. These were severely affected by COVID-19 as there was little or no face-to-face training or gatherings. As a majority of industries and offices were initially directed to work from home the demand for printing diminished overnight. This severely affected the industry. His business revenue dropped 60% as a result. Rahul says, "As everyone knows, many businesses moved their services online, for example fitness classes were being conducted on Zoom and also many events became hybrid so there were only limited face-to-face attendees". It was interesting that during the pandemic there was a 40% increase in new business registrations with ASIC as more people are starting their own businesses.

14. What lasting impact do you think it will have on your business?
We are seeing businesses keen to go back to live events and training, citing the reduced return on investment (ROI) with online events, and the lack of participant engagement. At the same time, health restrictions, keeping a safe distance and hygiene requirements will continue for near future. This will impact on costs, so there could be continuing squeezes on prices throughout the supply chain.

Rahul is now more optimistic and confident that Events will come back strongly. The training side of his business may in the future have a more hybrid style of delivery, that is combining online and face to face delivery. Rahul said that he is happy that his machines are busy and that things are looking positive for the future.

15. What have you learned from it that you will now implement in your business?
Businesses will have to reinvent ways to make things more personal or engaging with their audience to be more successful. It will also need to diversify in different products so that next impact of any catastrophic event does not impact the businesses severely. He has also learnt the need to diversify his client base. Had he had business clients in industries other than training and education then he feels that the impact may have been less severe.

Rahul said he also needs to be careful about incurring large expenses. They are now looking at doing more sharing of resources with other Snap franchisees, particularly with expensive equipment. He said that technology changes so quickly that the sharing of risk through sharing equipment makes financial sense. He is also seeing some operators cutting prices to obtain business. He feels that this is not a sustainable model and is creating a problem for everyone, and that there may be a correction in the Industry as a result.

VI. Family Business
16. From your experience what do you think are the advantages and disadvantages of family working in the business.
Rahul advises that everyone is different, and it is important to allow for everyone's individual personalities and skills. It is important to treat the workplace for business only and if family members are working in different areas of the business there is less potential for conflict. The problem often arises when one family member reports directly to another and thus it is usually better to keep functional reporting separate.

Rahul says "Working with family members can be beneficial to all members if done carefully. It has obvious advantages like trust, sharing of responsibilities and also flexibility regarding time and work". If there is unclear communication between family members, then there is a possibility for conflict, and this can affect the business. This in turn can affect their personal relationship, particularly if they live together. Patience and good communication is extremely important to make these work effectively.

Author's note: Rahul's franchises supply UBSS with its printing needs.