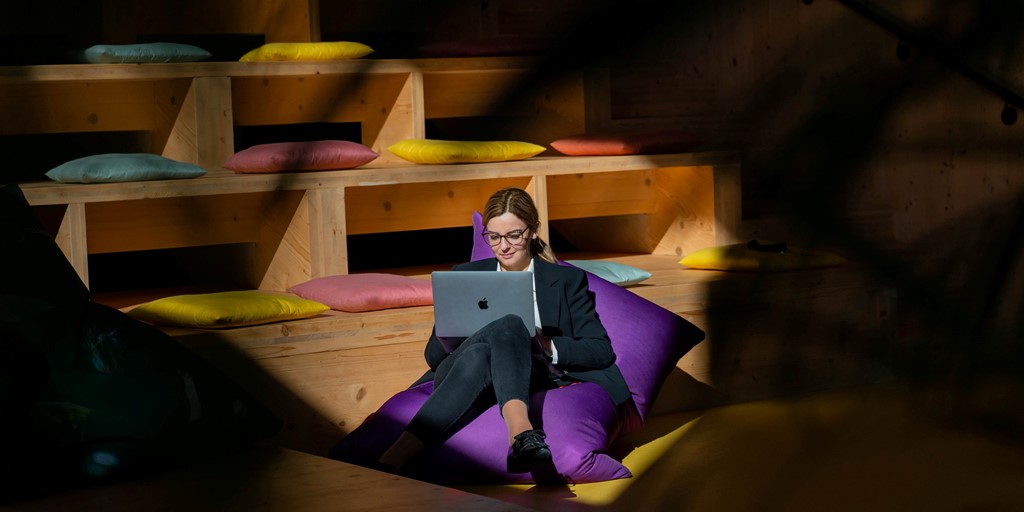 WeWork therefore We-Are
If I needed convincing that I am working in the 21st century, my time at wework has convinced me of a new paradigm at work and about work, and I like it! We have all no doubt heard of the working environments pioneered by Apple, Microsoft and the other Californian tech companies where bean bags replaced office chairs and open hot desks replaced closed in work stations. wework brings this sensibility with pragmatic elements that cater for lots of different activities. Reception is in the main area and the receptionists are extremely friendly and go out of their way to be helpful. They get you online and complete formalities with a minimum of fuss.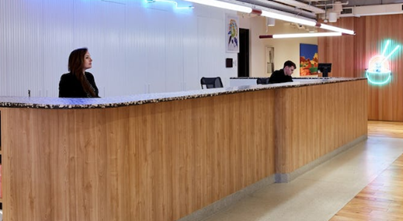 This main area is open plan, with couches, benches and tables. It is very easy to find a working space that suits your working style. As I sit here there are small groups of people sitting around tables, a nearby billiard table is tempting but two people are engaged in a very skilful game, 'telephone booth' (remember them!) spaces for private conversations and individuals working away at their laptops.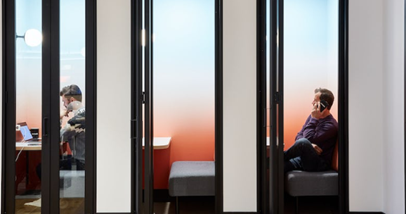 The WIFI is very quick and able to accommodate all its users and there is a kitchen area with tea and coffee, mugs and utensils and a fresh fruit bowl, with free beer after 2.00pm. However, I have to say that everyone is very professional about this, and the work ethic remains strong. There is also an outdoor area for enjoying the sun when it comes out. While we haven't taken advantage of them yet, there are offices available for booking if a more formal environment is required. In the post-COVID world the wework environment represents a brilliant half-way house from the comfort of working at home and the infrastructure and social interaction of the office.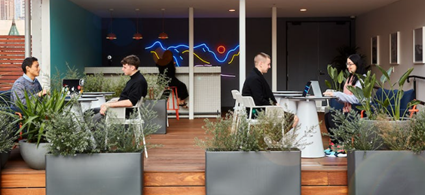 Wework 'chic' is broad and inclusive. From sandals, shorts, Hawaiian shirts and ponytails to the odd jacket and tie (me and my colleague). With t-shirts and slacks the "robes du jour", there is a relaxed but industrious vibe. The individuals and companies using these facilities are an amazingly varied group. There are tech companies providing online support, international visa operations, insurance, marketing, web-design, construction procurement, lawyers and a large, well-known food delivery service which has its entire operation based here.
Some are long term, some, like ourselves, are waiting on renovations to be complete.
Steve is perfect example of the flexibility wework offers. He is the CEO of a scaffolding company based in the Philippines and he has offices with wework Manila. With family studying in Australia, he can run his business while on the move. Elizabeth on the other hand is a Danish Master's student who is also running her graphic design business out of wework. She was in Melbourne during the lockdowns and wework offers her the opportunity to separate work from home and study. Everyone here has their own story and the wework model and the way it is run allows itself to be part of those many stories.
In the short period I have worked here, it has been an excellent environment to operate in and it has opened my eyes to the new reality of work.
For more information on wework, Exhibition Street Melbourne see here.
---

Associate Professor Tom O'Connor is Associate Director, Postgraduate Studies and Director, Special Projects for the Office of the Deputy Vice Chancellor at UBSS, Melbourne.