Diversity, business objectives, and education
Updating and enhancing unit content, delivery, and assessment
Support for the view that the primary objective of companies should be to maximise the wealth of shareholders is based on the Adam Smith principle that the best way for a person to promote the social interest is to pursue one's self-interest.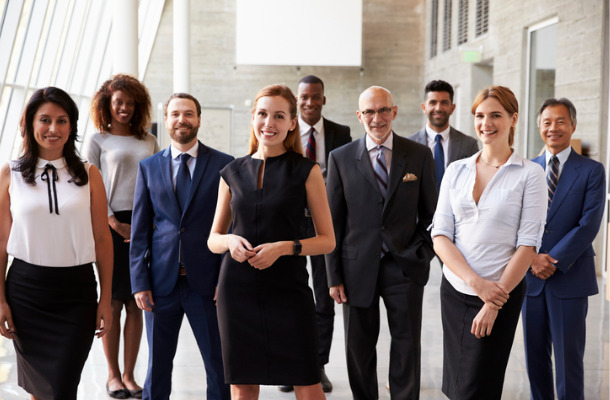 NOW READING
Diversity, business objectives, and education
2.11.21 | UBSS Publications
Published by
Issue 2 | Article 17
Abstract
Support for the view that the primary objective of companies should be to maximise the wealth of shareholders is based on the Adam Smith principle that the best way for a person to promote the social interest is to pursue one's self-interest. However, companies are increasingly being asked to add a range of secondary objectives, mainly concerned with diversity, equity, and the environment. Some proponents of the broader approach maintain that they are not challenging the traditional business model, and that the secondary objectives are effectively mediating variables that facilitate the maximisation of profits and shareholder wealth. The authors of this article develop a model to help analyse some of the effects of one secondary objective – greater diversity – on economic welfare. They also consider how one education provider in Sydney has addressed the challenge of achieving optimum diversity among students and staff.
Introduction
Adam Smith, the "father of capitalism" argued that the best guide for people seeking to promote the social interest is to pursue their own interests. Smith believed that this principle applied to workers, consumers, and investors: in most situations, activities aimed at maximising own welfare also maximise social welfare (Smith, 1776).
Economists have since constructed theoretical models to demonstrate that, if (1) producers and consumers have full and accurate knowledge of production and consumption possibilities (perfect knowledge), (2) there are no externalities of production or consumption (full appropriability), and (3) markets are competitive, then Smith is correct. They have further demonstrated that these conditions are largely met for about 80% of activity in free-market economies. This has led to widespread support for the view that the private sector, motivated by self-interest (referred to as rational behaviour), should take care of that part of economic activity where the above conditions obtain, and governments should look after the remaining 20%. This, in turn, has led to the view that the primary objective of business firms (responsible for the 80%) should be to maximise the wealth of owners. For companies, where ownership is largely divorced from operations, the primary objective of the directors (the agents) should be to maximise the wealth of the shareholders (the principals), generally by maximising profits.
In the middle of the 20th century, when memories of the decade-long Great Depression and the half-decade-long World War II were still crystal clear and exceedingly painful, corporate social responsibility (CSR) was largely synonymous with maximising shareholder wealth. Since then, real gross world product (GWP) has increased 12-fold and real per capita income has risen 4-fold. This increase in prosperity has been accompanied by a widening of the scope of many people's understanding of CSR to include a range of secondary objectives, mostly social and environmental.
While some hold the view that our higher income should be spread across a wider range of benefits, others suggest that the secondary objectives are simply compensating for imperfect knowledge on the part of producers about the capability of historically marginalised groups (MacRae, 2021). They are, therefore, consistent with the traditional, free enterprise approach - policies aimed at increasing diversity and equity and at improving the environment reduce knowledge imperfections in the labour and product markets, thereby increasing profits and, through this mechanism, also increasing social welfare. This article has two aims: first, to construct and apply a framework for analysing the effect of one proposed secondary objective (increased diversity) on economic welfare (the contribution by economic activity to total welfare): and secondly, to describe how one higher education provider, Universal Business School Sydney (UBSS) has successfully incorporated diversity into its business model.
The Model
General assumptions
The model assumes that:
The work force is divided evenly between two groups - those born in Australia (WAUS) and those born in New Zealand (WNZ);
The wage rate in the target industry is the same for all members of both groups;
Due to differences in business-relevant knowledge and skills, the marginal labour productivity (MLP) of members within both groups is subject to diminishing marginal returns;
There are no work-relevant differences between the two groups. The MLP schedules for both WAUS and WNZ are not only downward sloping, they are also identical; and
Those responsible for making decisions about new hires have correct perceptions about the MLP of WAUS but, initially, they consistently underestimate the MLP of WNZ.
Initial situation - inefficient allocation of labour
Fig. 1 describes this initial situation. The MLP curves for WAUS and WNZ are shown on the left-hand and right-hand axes, respectively. Employment is shown on the horizontal axis, with WAUS measured to the right from the left-vertical axis and WNZ measured to the left from the right-vertical axis. The horizontal base line therefore shows total employment. AB is the MLP curve for WAUS. CD is the actual MLP curve for WNZ and C1D1 is the perceived MLP curve for WNZ. Equilibrium employment is at E, where the actual MLP curve for WAUS intersects with the perceived MLP curve for WNZ. The diagram illustrates that the actual MLP of WNZ is higher than the actual MLP of WAUS. This results in a deadweight loss (the loss to society due to an inefficient allocation of resources) equal to the area of the shaded triangle JKH.

Disturbance
Now suppose that the employment bias against WNZ is removed. This could happen because those making hiring decisions acquire the ability to correctly assess the capability of WNZ. It could also be due to an intervention such as the introduction of a quota that, fortuitously, predicts the economically efficient employment of WNZ.
New situation – efficient allocation of labour
The new situation is illustrated in Fig. 2. Equilibrium employment moves to the left, to E1, with EE1 New Zealand born workers replacing the same number of Australian born workers. As this occurs, the MLP of New Zealand born workers declines (from EK to E1J) and that of Australian born workers increases (from EH to E1J). The process stops when the MLPs of New Zealand born and Australian born workers are equal.
The responses
The model depicts a situation in which the substitution of workers whose economic worth had not been fully recognised (WNZ) for other workers who were less productive resulted in an increase in welfare. This desirable outcome raises two questions: (1) how to identify the labour force misallocations; and (2) how to correct them. Many groups claim to be discriminated against based on gender, age, race, ethnicity, appearance, family relationships, and the like. Assessing their claims is complex and is beyond the scope of this article. We will, however, briefly address the responses issue, considering two approaches, namely, (1) quotas that prescribe an employment outcome in advance; and (2) education and training to overcome the knowledge imperfection that gave rise to the initial discrimination.
Quotas 
This is an interventionist approach, generally favoured by those on the left side of politics. It involves companies setting a target for employment of those in the disadvantaged group, most commonly reflecting their size in the total population or a relevant subset of the population. For example, following the model above, if 10% of the population were born in New Zealand, the targeted Australian companies should ensure that 10% of their own work forces were born in New Zealand.
The strong advantage of quotas is that they can lead to quick changes. Management simply advises the HR department that, say, of the 20 positions to be filled in the following month, four appointees must meet the condition that they were born in New Zealand. If the only form of disadvantage being considered is country of birth, if the quota correctly identifies the economically efficient number of New Zealand born employees, and if that number does not change over time, then the problem can be fixed quickly and easily.
The weaknesses include the slippery-slope phenomenon and quota rigidity. If the employment opportunities being considered are attractive, such as membership of an executive board or positions in senior management, other groups that feel disadvantaged may also join in the request for quotas, producing an administrative burden. Further, even if only one special interest group is seeking quota support, the quota number that is appropriate at one point in time will probably not be the correct number for long, making the quota itself a source of inefficiency and disadvantage. A measure designed to remove disadvantage and improve efficiency in the short run can easily lock-in inefficiency in the long run.
Education and training
This is the free market approach, strongly favoured by the conservatives on the political right. If the inefficiency is caused by lack of knowledge, then education and training can be used to remove the imperfection. The advantage of the approach is that it retains the decentralised decision-making strength of the free-market economy, allowing companies to consider all differences among job applicants (e.g., intelligence, education levels, experience, and communication skills). The main disadvantage is that changing the way key decision-makers think can be a slow process (e.g., for racial and ethnic discrimination) and time may be a limiting resource if the issue of disadvantage has become politically very sensitive.
The UBSS approach to diversity
In 2016, UBSS developed a strategic plan, which it has revisited on several occasions. The fundamental structure, though, has remained intact with five pillars underlying the growth and development of the business – a higher education provider with a focus on international students primarily but with an appetite for domestic students. The latest iteration, (2020-2022), was created in late 2019, and supported by the GCA Board of Directors (GCA Board, 2021).
The five pillars comprise growth, diversity, quality, entrepreneurship, and benchmarking. At the very core of the foci is student participation and attainment – which in turn leads to reputation, profile, and profit. A close examination of the diversity focus provides a valuable insight into the elements of diversity (closely linked with the quality pillar) - measured and reported against on a regular (at least monthly) basis. Diversity is defined, contextualised and explained from the outset (pp 9 and 10) – "Diversity tells us about who we are. Diversity provides our students with a truly international community on which we overlay a quality Australian educational experience. UBSS has an international student focus, but our intention is to grow our domestic opportunities appropriately. Source countries tell us about ourselves and energise our recruitment and marketing strategy. The balance of undergraduate and post graduate students is also an important part of our make-up. The Measures form the KPIs against which we are able to monitor and report our progress." (GCA Board, 2021)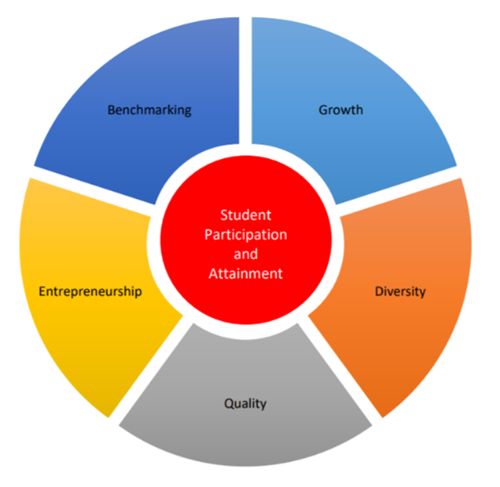 The strategies envisaged to ensure diversity are made clear:
Improve our widening participation profile, while maintaining entry standards;
Enhance our postgraduate offerings and increase uptake - both internationally and domestically;
Capitalise on our investments in information systems and tools;
Develop our learning and teaching infrastructure, technology systems and processes;
Develop graduates who are engaged; enterprising and enquiring; ethically, globally, are culturally aware; and have the skills, knowledge and entrepreneurial spirit to progress their careers and engage with societal challenges; and
Maintain an operating surplus sufficient to meet our strategic aims in a financially sustainable manner.
UBSS recognises that appropriate diversity produces better outcomes:
Good schools encourage diversity. Excellent schools energise diversity and develop a range of activities that maximise quality and opportunity (GCA Board, 2021).
Diversity and student cohorts
The KPIs on the diversity of our student cohorts are shown in the table below.
| | | | | |
| --- | --- | --- | --- | --- |
|   | 2019 | 2020 | 2021 | 2022 |
| Domestic | 8 | 178 | 433 | 433 |
| Executive | 8 | 138 | 333 | 333 |
| Virtual | 0 | 40 | 100 | 100 |
| International | 1600 | 1844 | 2242 | 2393 |
| Sydney | 1600 | 1600 | 1600 | 1600 |
| Melbourne | 0 | 200 | 350 | 500 |
| Virtual | 0 | 44 | 292 | 292 |
| Nationalities | 30 | 30 | 30 | 30 |
| Countries with 10 + | 10 | 10 | 10 | 10 |
| Undergraduate (%) | 50 | 47 | 43 | 40 |
| Postgraduate (%) | 50 | 53 | 57 | 60 |
Note. The COVID-19 pandemic has had a significant impact on projections, but UBSS remains confident that these same outcomes can be achieved by end 2024.
The succinct, well thought through diversity plan provides a focus for all staff members at UBSS around student recruitment and management. For UBSS, this diversity is essential to achieve not only growth, but heightened levels of student satisfaction with the learning experience.
References
GCA Board, (2021). UBSS Strategic Plan 2020 to 2022 - https://www.ubss.edu.au/media/1746/strategic-plan-v9.pdf
MacRae, D. (2021). Toward Benevolent AGI by Integrating Knowledge Graphs for Classical Economics, Education, and Health. In Technological Breakthroughs and Future Business Opportunities in Education, Health, and Outer Space. IGI Global.
Smith, A, (1776). An Enquiry into the Nature and Causes of the Wealth of Nations. The University of Chicago Press.
Biographies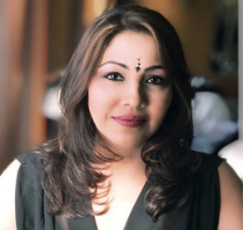 Assistant Professor Jotsana Roopram is Deputy Dean (Student Experience) at UBSS. Her main areas of expertise are examination management, developing academic systems, policy implementation in administrative processes and procedures, and school operations. Jotsana's research interests include governance and quality assurance in higher education, leadership, new managerialism, and online assessment.
Professor Angus Hooke is Professor, Senior Scholarship Fellow, and Co-Director of the Centre for Scholarship and Research (CSR) at UBSS. His earlier positions include Division Chief in the IMF, Chief Economist at BAE (now ABARE), Chief Economist at the NSW Treasury, Professor of Economics at Johns Hopkins University, and Head of the Business School (3,300 students) at the University of Nottingham, Ningbo, China. Angus has published 11 books and numerous refereed articles in prestigious academic journals.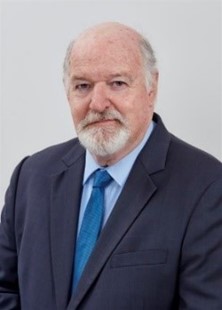 Emeritus Professor Greg Whateley is the Deputy Vice Chancellor, Group Colleges Australia (GCA). Formerly, he was Chair of the Academic Board at the Australian Institute of Music and Dean of the College at Western Sydney University. He has been keenly interested in alternative modes of delivering education since 2000 when he co-invented 'The Virtual Conservatorium' and has since found himself involved, some twenty years later, in the development of the virtual school.